Fresh Fish & Seafood From Around The World
Local, East Coast & West Coast Treat yourself to some of the delicacy of the Great Lakes fresh waters and the oceans blue.  We have a large assortment of both fresh and frozen fish.  The variety of fish available varies throughout the seasons.  But here's our regular selections.
We're always happy to special order fish & seafood.
LOCAL
Whitefish
Walleye
Perch
Lake Trout
Smoked Whitefish, Salmon and Lake Trout
SEAWORTHY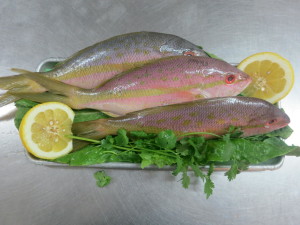 Ahi Tuna, Ultra Grade
Tasmanian Salmon
Steelhead Trout
Atantic Salmon – Bay of Fundy
Alaskan Halibut
Sea Bass
Artic Char
Haddock
Sea Bass
Cod
Shrimp, Large, Jumbo & 10-15 count, Wild Caught U.S.
U-10 Diver Scallops
Mussels, Prince Edward Island
Oysters
Clams

Crab Meat, Jumbo Lump
More varieties available depending on the seasons availability
FROZEN
Alaskan King Crab Legs
Lobster Tails, 4 oz, 8 oz, 12 oz
Crawfish
Calamari
Fish Fillets
Cooked Shrimp, Jumbo
Raw, US Gulf Shrimp
Lagostino Lobster Tails
Toski Sands House-Made Salmon Patties
And, Many Other Varieties