Fish is the perfect match for the spicy and bright fresh flavors used in tacos. Depending on what fish you choose, this can be a week day dinner at home or a celebration of a special occasion with friends and family. I like to use mild white fish such as tilapia, cod, halibut or swordfish. You can even use our local Whitefish to make a tasty taco. Tilapia, Cod and Whitefish are very mild fish that will flake nicely. You'll get a richer flavor from the halibut and swordfish at a richer price tag. Stay away from stronger flavored and oiler fish such as Salmons, Tuna and Trout. You can sauté, bake or grill your fish, whatever direction the weather or your preference leads you.
There's some cutting and chopping involved but that can all be done ahead of time. Once that's done, it's only the time it takes to cook the fish before your enjoying this delectable meal.
The fish will get blackened with a spicy seasoning. The sides and toppings are a combination of bright citrus flavors and cilantro. The Black Bean Salad has a little extra kick with the addition of jalapeno. It's fun to add the salads right to your taco or serve them on the side.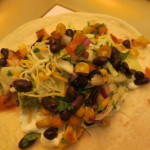 Preheat oven to 375 degrees. With a sharp knife, remove kernels from corn cob. Place kernels on a baking sheet lined with parchment paper. Lightly coat kernels \with olive oil and season with salt and pepper. Bake for 20 minutes. You can substitute fresh corn with 6 ounces of frozen corn.

*To Remove Kernels From Cob: Remove the husk and silk. Break the corn in half. Setting the cut edge on a cutting board, use a sharp knife cutting along the edge of the cob to remove the kernels.

When corn has cooled, toss corn, black bens, jalapeno, red onion and cilantro. Drizzle with olive oil and lime juice. Season with salt and pepper. Thoroughly mix to incorporate all the flavors.
Toss cabbage, jicama and cilantro in a bowl. Drizzle with olive oil and lime juice. Season with celery seed, salt and pepper. Toss to combine all the ingredients.
Heat a large skillet over medium heat. Rub Cajun fish seasoning over the fish. Lightly coat the pan with vegetable oil. Cook the fish for 4 minutes. Flip for an additional 2 minutes or until the fish flakes. Squeeze fresh lemon juice over the fish. Serve immediately.

Serve with your favorite taco toppings such as tomatoes, avocado, salsa and sour cream.

To Bake: Preheat oven to 350 degrees. Place seasoned fish on a baking sheet lined with parchment paper. Bake for 8-10 minutes or until fish flakes.

To Grill: Heat grill to medium high heat (about 400 degrees). Lightly oil grates. Place fish directly on the grill. Cook on the first side for 3 minutes. Flip and cook an additional 2 minutes or until fish flakes.

*It's OK if the fish falls apart, you don't need to serve the fish in whole pieces.