Deck The Layers
Wild Caught Smoked Salmon & Caviar Canapes
Not only is this appetizer visually appealing, it follows up it's good looks with some very special flavors.  You can create this the day before and cut just prior to serving.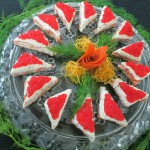 Making the Flavored Cream Cheese
Making The Flavored Cream Cheese
Whip the cream cheese till light and fluffy. Add the remaining ingredients and stir until incorporated. Set to the side.
Spread cream cheese mixture over slices of bread. Top each with salmon (it's OK to use pieces of salmon to cover cheese, you won't notice it once you cut the appetizer). Add a second layer of cheese and top with a second layer of salmon. Put a final layer of cheese on the top. Refrigerate for several hours or overnight, covered. Place toothpicks in your appetizers to keep plastic wrap from touching the cheese.
Top each appetizer with the caviar. Using a sharp serrated knife, cut the appetizers in half. Using the knife, trim the outer edges to create a clean look. Keep chilled till ready to serve. Garnish with a sprig of fresh dill just prior to serving.
SUBSTITUTIONS
Duck Trap Wild Sockeye Salmon: Any thinly sliced smoked salmon
Romanoff Vodka Lumpfish Caviar: Red Salmon Caviar
Don't Care For Caviar? Top final cheese layer with a second slice of Pumpernickel Bread.