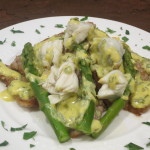 Sometimes when you dine at a restaurant you come across strange combinations of food that ordinarily you would never try. So it was this veal and crabmeat dish from The Red Carpet. Once in a while when we are feeling experimental this is the kind of recipe it's fun to do. Vincent Price
| | | |
| --- | --- | --- |
| | | Sometimes when you dine at a restaurant you come across strange combinations of food that ordinarily you would never try. So it was this veal and crabmeat dish from The Red Carpet. Once in a while when we are feeling experimental this is the kind of recipe it's fun to do. Vincent Price |
Dry veal scallops and dust lightly with flour.

Saute a few pieces at a time in 2 tablespoons butter and 1 tablespoon cooking oil over moderate high heat for 4 minutes on each side. Remove veal and keep warm.

When all the veal is sauteed, pour off fat and add 2 tablespoons butter, Madeira and beef stock. Boil over high heat and reduce liquid to 1/2 cup.

Lower heat, add the veal, and simmer for 10 minutes.
Simmer shallots in tarragon vinegar until partially cooked.

Add white wine and cook until liquid is reduced to 1/3 of the original amount.

In a heatproof bowl beat egg yolks until thick. Strain vinegar-wine mixture and beat into eggs.

Put bowl in pan of simmering water and beat until mixture thickens. Add drop by drop: 1 cup butter, beating all the time.

Taste for seasoning and add a little salt and pepper, if necessary. Finish with dried tarragon leaves.
Arrange the veal scallops on a warm platter. Top with warmed crab meat on each veal chop. Cover each chop with 2 tablespoons bearnaise sauce and garnish with cooked asparagus spears.
Other Recipes Inspired By Vincent Price
Notes from Sue & Phil
Madeira: We used Sandeman Rainwater Madeira (a drier style of Madeira). If you're cooking with wine you might as well buy something you'll enjoy. Mass produced cooking Madeira's contain salt and aren't produced for sipping. 
Madeira has a very interesting history.  It is made in the Madeira Islands in Portugal.  In the 1600 and 1700's brandy was added to the wine to help it survive its journey to the New World.  The wine was exposed to heat as it traveled through the tropics.  This exposure deepened the flavor.  Today, its unique taste comes from heating the wine.  So, enjoy the drier versions chilled as a first course and the sweeter versions as a dessert wine.
Béarnaise:  If your pan is too hot when beating the eggs in the double boiler they may clump. If that happens, add a few drops of cold water and keep whisking vigorously.  It will smooth out for you.
*The recipe has a lot happening at once.  It's not hard to prepare but you just need to have everything prepped and measured out ahead of time.  We made the Béarnaise first and kept it on a very low heat.
*The Risotto Alla Milanese is wonderful with this veal recipe.  We laid our veal scallops on top of the risotto to give the dish some heights.
*You could do this recipe with chicken breasts instead of veal. Substitute chicken stock for the beef stock.
*We saved the Madeira sauce the veal simmered in.  It was lovely and we didn't have the heart to through it out.  You can freeze it.  Serve with Roast Beef, Grilled Steaks or Sautéed Chicken.
Vincent Price
Beyond The Legend
Collector of Recipes – Food Enthusiast
I never knew or would have guessed there was more to Vincent Price then his countless horror flicks and renowned voice. Until…a dear friend loaned me his first edition copy of the "Treasury of Great Recipes" written by Vincent & Mary Price and published in 1965. The book is a collection of famous recipes from world -renowned restaurants adapted for the American kitchen. As the Price's traveled through out the U.S. and Europe, they would ask chef's to share their recipes. They'd take these recipes home; try their hand at preparing them and then entertain guests with their culinary creations.
I loved how Vincent and Mary describe themselves as being from Hollywood but not allowing Hollywood to define them. Their approach to entertaining was very open and unpretentious. They enjoyed an eclectic group of friends and diversified menus. The entire home was there entertaining stage; dinner in the library, brunch by the pool, dessert in the kitchen. The recipes they chose to publish were diversified as well.
• Harry's Bar in Venice – Scampi Aurora (Shrimp with Hollandaise Sauce au Gratin)
• Pump Room in Chicago - Flaming Shashlik (Lamb on a Skewer)
• Tour d'Argent in Paris – Filets De Sole Cardinal (Fillets of Sole with Crayfish)
• Santa Fe Super Chief Dining Car – Poached Eggs Harlequin
The cookbooks accolades are amazing. Saveur Magazine referenced the book as "One of the most important culinary events of the 20th century." Booklist recently named it the eighth most popular out-of-print book of any kind. Vincent and Mary's daughter, Victoria, has published a 50th year anniversary edition of the cookbook. It includes all the original recipes and a new forward note from Wolfgang Puck.
With the help of my friend and mentor, Chef Phil Behling, we have picked a few of these recipes to recreate. Our goal was to follow the recipe as close as possible. However, it is fifty years later and ingredients, equipment and techniques have changed over time. We hope you enjoy a nostalgic walk back in time as you read and/or create these timeless recipes.