Fish en Papillote – Halibut in Parchment Paper
With Cannelloni Beans, Spinach, Zucchini, Squash, Carrots, Lemon, Red Onion, Kalamata Olives, Sweety Drop Peppers, Basil and Feta
This recipe was inspired by a recent trip to Marco Island, Florida. There is a wonderful seafood market called Paradise Seafood and Gourmet Market. This little shop, just off the main thorough way, lays an abundance of beautiful fish and seafood. What intrigued me were all the options you could do using this simple parchment wrapped meal. It screamed out delicious and healthy. Healthy eating seems to be particular important this time of year. Not to say we don't try to do this throughout the year, but after a winter in northern Michigan, it just seems a little more in focus for some of us. While the weather isn't quite there to fire up the grill, this is a fun alternative in the oven. You could do the same process using foil and placing it on your grill.
The cooking process is steaming. You use little to no oil or juice to do this. The moisture of the fish and vegetables will do all the work for you. The vegetables are cut very thin, allowing them to cook in a very short period of time.
You can create your fish pocket 4-6 hours ahead. When you're ready to serve, the pockets go right on your dinner plate. Cut them open and enjoy the lovely goodness right out of your pocket.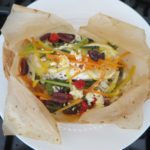 Do all your slicing and set up all the ingredients ready to assemble. Season the halibut with sea salt and fresh ground pepper.
CREATING YOUR FISH POCKET
Cut out a 12 by 16 inch piece of parchment paper. Fold it in half and cut out a wide heart. Open the heart.

On half of the heart, start layering your meal, using a sixth of the ingredients for each heart.
• Canneloni Beans • Spinach • Halibut • Lightly drizzle olive oil and squeeze fresh lemon juice over fish • Lay two slices of lemon on top of each fish • Zucchini • Squash • Carrots • Red Onion • Drizzle a little more lemon juice and lightly season with sea salt and fresh ground pepper • Kalamata Olives • Fresh Basil • Feta Cheese • Sweet Drop Peppers
Fold the parchment paper over the meal. Starting at the top of the heart, fold the paper over in 1 inch increments. At the bottom of the heart, fold your access paper under the heart.
Preheat oven to 450 degrees. Place fish pockets on a baking sheet. Bake fish pockets for 15 – 17 minutes, or until the fish has reach a minimum of 145 degrees. I checked the temperature of the fish by inserting an instant thermometer into one of the pockets, poacking it in until I reached the fish. Let rest for 10 minutes. Transfer to the dinner plates. Cut down the center of each pocket, being careful of the rising steam.
VARIATIONS ABOUND
This is only the beginning of what you can create. Here is a list of other options to create your own Fish en Papillote.
Fish:
Cod, Sea Bass (may take a little longer to cook), Salmon, Haddock, Shrimp, Scallops
Vegetables:
Asparagus (blanch prior to placing in the pockets, unless using pencil thin asparagus), Snap Peas, Snow Peas, Cherry Tomatoes, Baby Bok Choy (quartered), Bell Peppers, Scallions, Leeks, Mushrooms, Minced Garlic, Capers
Liquids:
Lemon or Blood Orange Olive Oil; Soy Sauce; Lime or Orange Juice; Ponzu Sauce; Sesame Oil; Butter; White Wine
Seasonings:
Seafood Seasoning; Old Bay; Lemon, Lime or Garlic Sea Salt; Fresh Thyme, Parsley or Cilantro; Red Pepper Flakes
AN EASY VEGETARIAN MEAL
You don't have to put fish in your pocket. This could be done with all vegetables for a complete meal or as a side dish.