Mastering Grilled Fish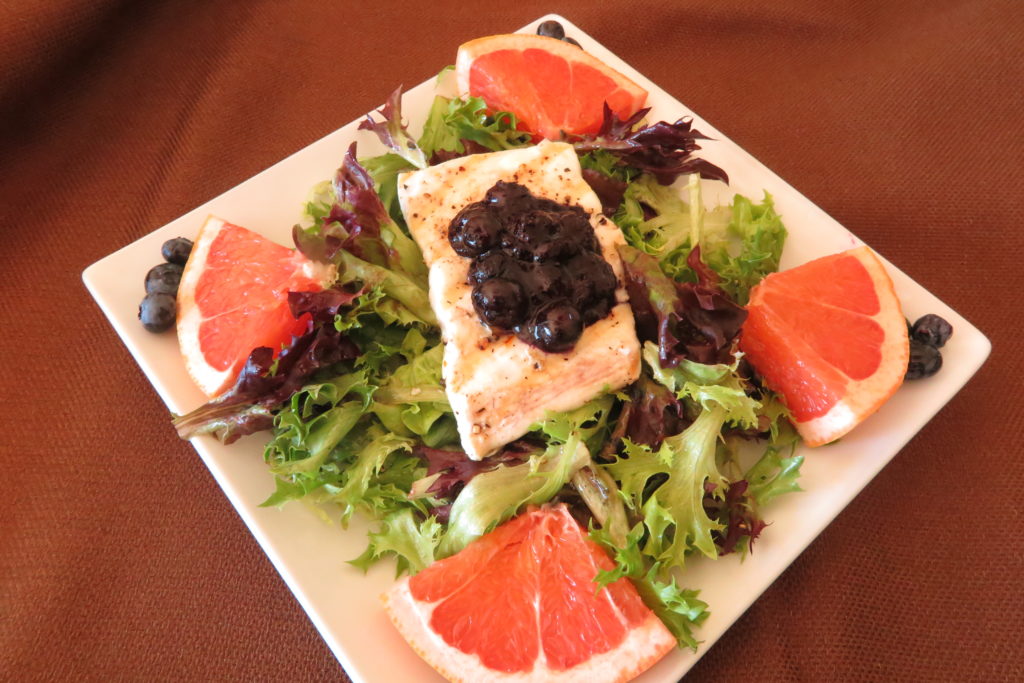 Putting delicate (expensive) fish on a hot grill can be a little daunting. The control of your stove top and oven is a little bit less stressful. But the grill, that can be downright scary!
Have no fear. Following some pretty simple but very important techniques can grow your confidence beyond your imagination. Starting with the grill. It has to be CLEAN. It has to be HOT. It has to be OILED. Next the fish. It has to be dried than oiled. Last, the timing. 5 minutes for every ½ inch of fish thickness. That's it! Now how scary can that be.
The Grill
Get the grill very hot to clean off any old residue. That step is also important because what we want to do is have very hot grates as well. Scrape the grill to remove any old food remnants. This is an important step because we want a very clean grill. You're going to want to make an oil rag. Take an old rag or dish cloth, roll it and tie it with butcher string. Fill a shallow pan or dish with vegetable or canola oil. Don't use olive oil, it doesn't handle the high heat as well. Using you're grill tongs, dip the rag in the oil. Oil your grates with the oiled rag (using your grill tongs, of course). You want your grill at a high heat of 450 to 500 degrees. The hotter your grates, the more seared marks you'll achieve. The longer you heat your grill, the hotter those grates will become.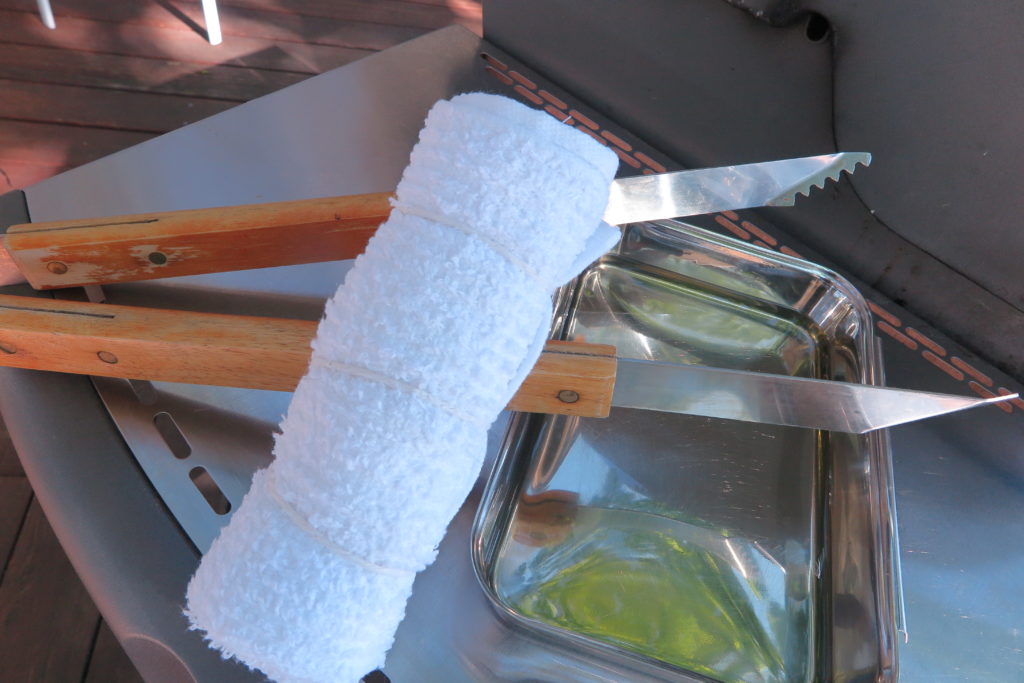 The Fish
It's easier to grill thicker fish like halibut, salmon, sea bass, swordfish and cod. Thinner fish is a little more challenging. I assure you, after a little practice you'll be able to do them as well. With thinner fish, you're going to want to leave the skin on. This will help hold the fish together and avoid breaking apart when you flip the fish. Also with thinner fish, you want to grill it with the skin side down first. This will protect the delicate fish from the dry heat of the grill.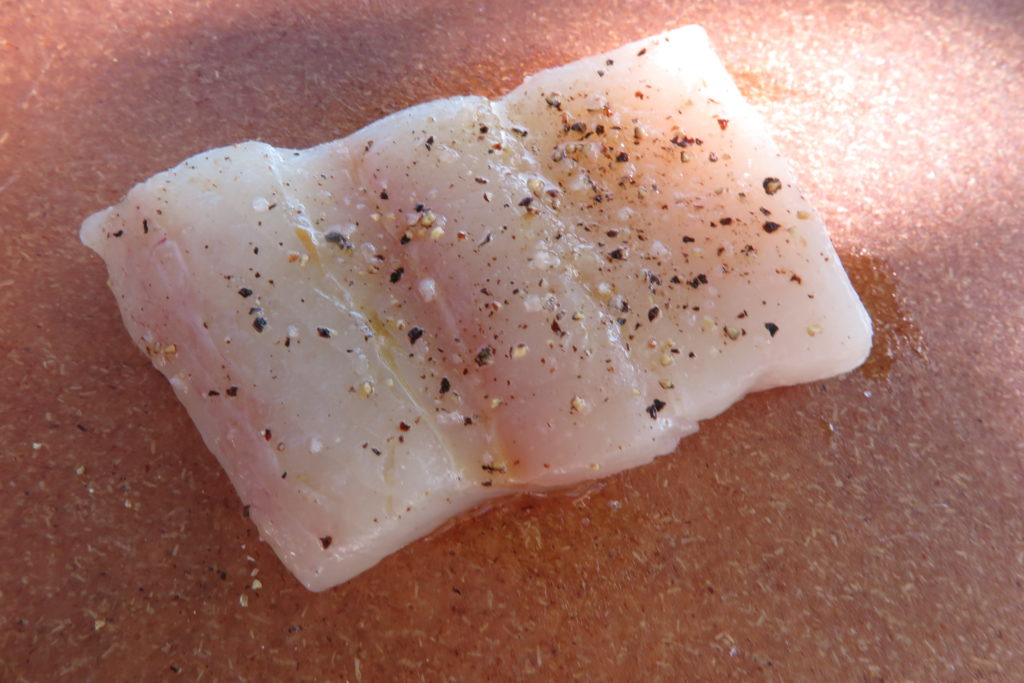 Prepping Your Fish:
Rinse your fish off in cold water. Pat dry with a cloth towel or paper towel. This is very important. If your fish is too moist, it will steam on the grill and you won't be able to achieve those beautiful seared lines. Salt and pepper the fish then drizzle with olive oil. Don't soak it in olive oil but be generous. You want to coat the fish, not saturate it.
The Timing
For every inch of fish thickness, assume the total timing will be 10 minutes, or 5 minutes on each side. Have the right equipment. A long fish spatula with a tapered end is ideal for picking up the entire filet and being able to flip it over with ease.
Place the fish topside down on the very hot, clean, oiled grates. Set your time for 5 minutes if you have a 1 inch filet. Keep the cover up on your grill. You'll start to see the bottom half the fish turn from a translucent color to an opaque color. When the timer has gone off, gentle slide your spatula underneath the fish. If it feels like it's sticking to the grill, STOP. You just need a little more time. Give it another minute or so. Trust the fish, he'll know when he's ready to flip. The spatula should glide fairly easily underneath the fish. Gently turn the fish over. Adjust your timing for the second half of cooking. If you ended up going 6 minutes on the first side, go 4 minutes on the second side.
You'll know the fish is done when you see the fish starting to flake. Separate a small portion of one of the flakes, the fish should be opaque all the way through. But just to be sure, use an instant thermometer. You want an internal temperature of 135 degrees. While it's resting off the grill, the temperature while rise to 140 degrees.
You're Done
That's it! You did it! Now it's all about that beautiful fish. Squeeze a little lemon juice and "Viola", dinner is served. But you can have fun with that gorgeous fish. You can add seasonings before you grill like Blackening Seasoning, Old Bay, or your favorite fish seasoning. Or, after it is cooked, you can serve it with different toppings. Try pesto, a lemon caper dill sauce, wasabi sauce or olive tapenade. Because blueberries are in season right now, I topped mine with a Blueberry Ginger Sauce.
Put that fear aside. The fish will let you know when it's ready.
Just follow those guidelines:
Clean, hot, oiled grill
Dried, oiled fish
10 minutes total cooking time for every inch of thickness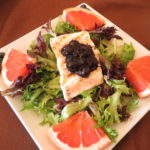 Over low heat, cook the 1 ½ cups of blueberries, mashing lightly. Add the remaining ingredients. Cook for 20 minutes, stirring and mashing the blueberries. Add the remaining ½ cup of blueberries. Do not mash. Stir periodically. If the sauce becomes too thick, add up to a couple tablespoons of water. Set to the side.

Serve over the fish. You can serve it hot or at room temperature. You can make the sauce a day or two ahead. Either reheat or allow to get to room temperature.
I served it over a mixed green salad with a Ginger & Honey Balsamic Vinegar and Extra Virgin Olive Oil.
Now it's time for the grilled fish. I don't need to tell you how to do that. You already know!
Just follow those guidelines:
Clean, hot, oiled grill
Dried, oiled fish
10 minutes total cooking time for every inch of thickness