Heirloom Tomato Salad
with Halloumi Cheese & Black Garlic
With tomatoes in season, bursting with flavor, I created a summer salad of tomatoes, halloumi cheese and black garlic. It's a simple salad but all great things don't need to be complicated.
With our love of the infamous Caprese Salad, I decided to create a little twist to it by adding halloumi cheese and black garlic.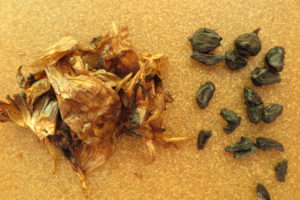 What is black garlic? It's white garlic that has been deeply caramelized for a month or more at a low temperature. It has twice the antioxidants of white garlic and a long list of other significant health benefits. The flavor is deep and lingering. You get notes of balsamic, molasses, soy sauce, caramel and chocolate. Obviously, that made it a perfect complement to the summer ripe tomatoes.
What is Halloumi Cheese? The cheese comes from Cyprus in Greece. It's goat and sheep milk with a firm texture and salty taste. And, if you're a fan of the crisp browned cheese on the edges of your cooked pasta dishes or pizza, you and Halloumi will become quick friends. The firm texture allows you to get that toasty cheese flavor with the smoky accents from the grill.
This recipe is a great side dish to Grilled Whole Branzino.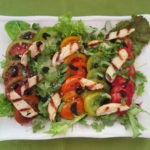 Heat the grill to 400 degrees. Scrape off grates to ensure they are clean. Oil grates with a rag soaked in vegetable oil. Grill 3 minutes per side. The cheese should easily put off the grates. If it doesn't, just give it a little more time. Set to the side and let cool. Cut each slice in half after they have cooled.
Place tomatoes on a platter. Top with Halloumi cheese. Add basil and black garlic. Drizzle with olive oil and season with coarse ground sea salt and fresh ground pepper.