Herbed Stuffing Garnished with Roasted Squash Seeds and Fried Sage Leaves
A traditional stuffing with the bright flavors of fresh herbs. It's topped with Roasted Squash Seeds and Fried Sage Leaves.
Click here to ready our Harbor Light Article on Thanksgiving and a Butterflied Turkey.
Check out these recipes:
Turkey Stock
Savory Turkey Gravy
Butterflied Turkey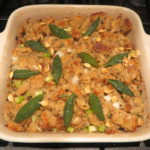 3

lbs

Bread

cubed (the nicer the bread the nicer the stuffing)
Preheat the oven to 300 degrees. Place bread cubes, in a single layer, on a couple baking sheets lined with parchment paper. Bake for 20 minutes (tossing the cubes 10 minutes into the cooking time). Make sure the bread cubes are dry, continue cooking a little longer if needed. Let set out overnight or store in a plastic bag after they have cooled.
In a large bowl, add the stock and melted butter to the bread cubes (reserving ½ cup stock and 4 tablespoons of butter). Add the celery, onion, fresh herbs and seasonings. Mix thoroughly. This will take a little while to incorporate all the juices into the bread cubes.

Divide the stuffing in half. Half will go under the turkey and half will go in a separate casserole dish. Add the ½ cup stock and 4 tablespoons of butter to the stuffing in the casserole dish. *The dressing underneath the turkey will get moister from the juices of the turkey while it's cooking. We added the extra stock and butter to the side dish of stuffing to moisten it further.
Baking The Stuffing In The Casserole Dish
Preheat oven to 350 degrees. Cover the casserole pan containing the stuffing with foil. Bake for 20 minutes. Remove foil and bake for an additional 20 minutes. If you want it a little more golden on top, set under the broiler for a few minutes.
You can make the dressing a day ahead and cook the stuffing in the casserole pan ahead of time. You can reheat at 350 degrees for 20-25 minutes on Thanksgiving Day.