Intimate Thanksgiving Dinner
There is nothing like the traditional thanksgiving dinner surrounded by lots of family & friends. But, sometimes, the celebration is an intimate dinner with a small number of cherished guests. This menu was designed just for that occasion. It takes the traditional Thanksgiving menu, with a few little twists, to create a memorable experience.
Turkey Breast with Chorizo Corn Bread Stuffing
Mashed Yukon Potatoes with Aged Manchego
Roasted Carrots, Brussels Sprouts & Rutabaga
When there's a good deal of cooking to be done you need to "pick and choose your battles". Keep the appetizers simple, there's plenty of food to come. And, asking a guest or purchasing a pie from your baker will make life so much easier. You can pretty much get everything prepped ahead of time. The turkey will take a couple hours. So, once that's in the oven, you can get the potatoes going and the roasted vegetables into the oven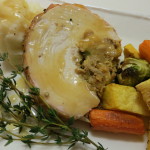 Turkey Breast with Chorizo Cornbread Stuffing
To the corn bread stuffing, add the chorizo (with the fat), green bell pepper, jalapeno and thyme. Mix in broth and butter. Refrigerate until you're ready to stuff the turkey breast.

Preheat oven to 350 degrees. With a meat mallet, pound the turkey breast till it's an even thickness (or ask your butcher to do this for you). Place half the chorizo stuffing on top of the turkey breast, leaving a couple inches on all four sides without dressing. Roll the long way, tucking in the edges as you go. Tie stuffed turkey breast with meat twine. Use the meat twine and tie the breast lengthwise as well. Pour melted butter over turkey and season with salt & fresh ground pepper.

Put remaining chorizo stuffing in a covered oven proof pan. Place in the oven 45 minutes before the turkey is finished cooking.

Place stuffed turkey breast in heated oven and cook for approximately 1 hour 45 minutes to two hours. The internal temperature should ready 155 degrees. Let stand for 30 minutes before slicing.

WINE PAIRING SUGGESTIONS: California Zinfandel, Sonoma Coast Pinot Noir, Alsace Gewurztraminer, Chateau Fontaine Pinot Noir
After the turkey has cooked, remove the stuffed turkey breast from the roasting pan and set to the side to rest. Heat the roasting pan on the stove top over medium heat. Add white wine and deglaze pan by scrapping up brown bits. Add turkey broth. Mix flour together with water to create a slurry. When broth is boiling, slowly add slurry, whisking the entire time. Keep whisking till gravy has thickened.
Mashed Yukon with Aged Manchego Cheese
Cover potatoes with salted water. Bring pot to a boil. Cook potatoes until they are tender, approximately 25 minutes. Drain. Add milk and butter and hand mash the potatoes. Season with salt & white pepper. Add cheese. Lightly mix to incorporate. Keep warm until ready to serve.
Roasted Carrots, Brussel Sprouts & Rutabaga
Preheat oven to 450 degrees. Toss vegetables with the olive oil. Season with salt & pepper. Place in a single layer on a baking sheet. Roast for 45 minutes or until vegetables are lightly toasted. Keep warm until ready to serve.