KICKING COWBOY BEANS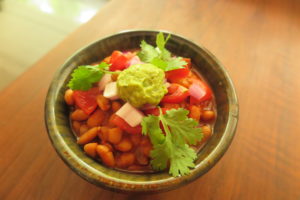 Kick up your heels for these spicy baked beans. 
Just enough heat to make you feel like your in the Santa Maria Valley.  
This is one recipe in the Ranchers Feast article.
You make like to try they other recipes as well:
Peachy Ranch Hand Salsa
The Rancher's Tri Tip Grill
Chipolte Toast with Grilled Cheese
In a Dutch oven, over medium heat, cook the bacon until it is light brown but not crispy (about 4-5 minutes).

Add the ham, garlic, onion, ancho chili powder, mustard, brown sugar, paprika and salt. Cook for 3 minutes, lightly toasting the spices.

Add the water to the pan and deglaze, scraping up the brown bits off the bottom.

Add the Worchester, Tabasco and tomato puree, stirring to incorporate with the spices. Bring to a simmer then reduce the heat to low and cook for 30 minutes, covered.

Add the beans and cook for an additional 30 minutes, covered.

Garnish with chopped tomatoes, onions and cilantro.