A Menu for April and Beyond
When you live in Northern Michigan, who knows what the weather will bring. Don't wait till the chance of snow is gone, the bright flavors of this
menu will make you feel like spring (even if the snow is still coming down). Meyer Lemons are sweeter than regular lemons and have a beautiful floral taste.
The Scallops, Meyer Lemons and Polenta can all be grilled at the same time.  
Serve with Sauteed Pears with Blue Cheese & Walnuts and the Grilled Parmesan Polenta.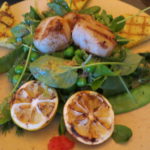 Bring a pot of salted water to a boil. Once boiling, add fresh peas. Approximately one minute later (taste a pea to ensure it is firm but no longer raw), add the snow peas and snap peas. Continue cooking for another 1-2 minutes (peas should be bright green and still crisp). Drain and rinse with cold water (add a few ice cubes to bring down the heat of the peas as quickly as possible). Pat dry and set to the side.

Rinse spring mix, watercress and dill. Spin dry in a salad spinner. Set to the side. Toss salad with dressing just before serving.
Emulsify the dressing with an emergent wand or in a mini food processor. Set to the side.
Rinse scallops in cold water. Remove tough muscle on side of mussel, if it hasn't already been removed. Pat dry. Thread 3-4 scallops per bamboo skewer. Sprinkle both sides of scallops with paprika and cayenne. Heat grill to medium high heat. Oil grates. Grill scallops 1 ½ to 2 minutes per side. Top dressed Pea Salad with Seared Scallops. Dot Harissa around the plate.
Heat grill to medium high heat. Oil grill. Place lemons on the grill, cut side down. Grill for 1-2 minutes. Turn lemons a quarter turn with a spatula (do not use a tong, it will break the seared lemon and release its juices), keeping it face down. Grill another 1-2 minutes. Set to the side. Garnish salad with 2 lemon halves per plate. Let guests squeeze grilled lemons over their seared scallops. *The grilling sears in the juices of the lemon and brings out an intense sweet flavor.
NOTES ABOUT GRILLING
• As mentioned earlier, the scallops, polenta and meyer lemons can all be grilled at the same time. Actually timing differs a little bit, but the meal is served at room temperature so it's OK if something comes off sooner than other items.
• Because the heat generated by every grill varies, timing mentioned is approximate. Items should flip easily without sticking. If you feel like you're pulling a little, let it cook a little longer or move it to a hotter part of the grill. It just needs more time or heat to sear.
• Don't forget to oil the grill grates. This will help you achieve those perfect grill marks and keep your food from sticking.
Testing the heat of your grill:
A great way to check the temperature of your grill is to use the Hand Trick. Holding your hand one inch above the grill grate, you'll know the heat level by how long you can hold your hand in place before it gets too hot.
6 seconds Low Heat 300 plus degrees
5 seconds Medium Low Heat 350 plus degrees
4 seconds Medium Heat 400 plus degrees
3 seconds Medium High Heat 450 plus degrees
2 seconds High Heat 500 plus degrees
1 second Too Hot, reduce heat before cooking!
Harissa Sauce
 is used in North African cuisine.  It's made with Red Bell Peppers, Red Chili Peppers, Garlic & Olive Oil.  Here are some other great ideas for using Harissa Sauce.
Burgers – add to mayonnaise for a spicy condiment.
Roasted Vegetables – Top sweet roasted vegetables, such as squash, carrots & fennel
Salad Dressing – add a little to your vinaigrette for a little kick.
Eggs – perfect with eggs, more complex than Tabasco or Sriracha.