MICHIGAN SALMON BAKE
Honey Dipped Salmon with Confetti Coleslaw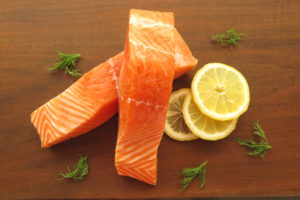 My upbringing was a little different than most people. My parents owned a motorcoach tour business, taking people from all over Michigan to destinations throughout the United States and Canada. I started as the baggage girl, carrying luggage to the travelers' hotel rooms. By 15 years of age I was escorting one day tours throughout Michigan. At 17, I was responsible for my first overnight tour to Nashville, TN. I worked summers all through high school and college. All those experiences exposed me to regional cuisine throughout our beautiful country and Canada. Those travels fueled my love for food and cooking I have to this day.
The tour that became known as "my tour" was the 30 day trip to Alaska. I made that trek nine times. We traveled across the country to Prince Rupert, British Columbia where we loaded our passengers and our bus on the Alaskan Marine Highway. We sailed the Inside Passage to Skagway, Haines or Seward. Alaska is known for its wild untouched terrain, eagles, totem poles, gold mines and miners, whales and SALMON. Not only are they renowned for their salmon, their salmon bakes (every community has at least one) are infamous. They all follow the same basic concept; an outdoor picnic atmosphere, salmon grilled right in front of you, coleslaw, baked beans and rolls. And, for those who preferred, halibut was also grilled. But each salmon bake had its own secret marinade, top secret, not to be shared should it get into the hands of a competing salmon bake. Using the charm of a young 20 year old girl, I did manage to pry out of an Alaskan grill master in Juneau, Alaska his ingredients. Of course he wouldn't share the portions with me but he had no idea how much I loved to cook.
Once home, I went to work on duplicating the marinade. So here it is for you! This was probably the first recipe I ever wrote. I've prepared it countless times (I'm not going to share with you how old it is, but it's been around awhile!).
Alaska's salmon season runs May through November (it varies year to year). It starts with the King Salmon, then the Coho (Silver) Salmon and then arrives the infamous Sockeye Salmon. Obviously this recipe was designed for Alaskan wild salmon, but it perfect with whatever salmon you prefer or what is available to you. The Alaskans use it with halibut as well.
Click here to go to the Confetti Coleslaw Recipes: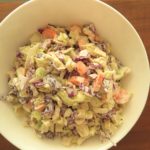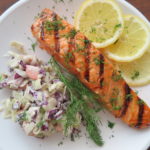 In a small sauce pan over medium heat, melt the butter. Add the honey, brown sugar and lemon juice. Stir until brown sugar has dissolved. Set to the side and cool.

Help with the honey: Here's a trick. Microwave the container of honey for 30 seconds. This will help the honey pour out easier. Spray the measuring cup with Pam Spray. This will help prevent some of the honey remaining in the measuring cup when you pour it out.
Arrange salmon in a dish with sides. Pour marinade over the fish, cover and refrigerate for 30 minutes but no longer than an hour. Sprinkle dill over the salmon before cooking.

To Grill: Heat the grill to medium high heat. Oil clean grates with vegetable oil. Grill the salmon over medium high heat, 5-7 minutes per side. Baste with marinade a couple times per side. Garnish with lemon slices. Note: The rule of thumb is 10 minutes per inch of fish. For thicker filets, I close the cover for a little bit to ensure the fish is cooked through.

To Boil/Roast: Preheat oven broiler for 10 minutes. Arrange lemon slices on top of salmon. Place salmon underneath broiler for 2-3 minutes or until top of the salmon is golden brown. Remove from oven. Reduce heat to 375 degrees and place oven rack in upper third of oven. Bake for 15 minutes, brushing marinade over the fish a couple times.

Checking for Doneness: The salmon is done when it is opaque and slightly springy to the touch. The filet should spate with a fork but not flake.

Skinless vs. Skin On: It's a personal choice. Some people prefer to cook with the skin on because of the important nutrients available in the skin. When grilling with the skin on, do not flip the salmon. Grill for 12-15 minutes, skin side down. When you're ready to remove the salmon, the skin will adhere to the grill and should be able to use a spatula to remove only the fish from the grill. Once the grill cools, the skin can be easily removed from the grates.
LEFTOVER HONEY DIPPED SALMON
Bibb Salad with Lemon Infused Olive Oil
A delicate salad tossed with Lemon Infused Olive Oil, fresh lemon juice and a high quality olive oil or a light poppy seed dressing. Toss Bibb lettuce with dressing, a finishing sea salt and fresh ground pepper. Top with salmon and serve.
Angel Hair Pasta with Lemon and Parsley
Boil 8 ounces of angel hair pasta. Drain pasta and return to pan. Drizzle pasta with the juice of one lemon, 2 tablespoons olive oil, 2 tablespoons fresh chopped parsley, sea salt and fresh ground pepper. Toss to incorporate ingredients. Top pasta with salmon.