How Very Much They Care
Double R Ranch
And The Family of Agri-Beef
Grilling the Ultimate Steak Recipe
Dave's Pacific Northwest Wine Reduction with Blue Cheese
I had the opportunity of a lifetime a few weeks ago when I was invited to visit the full operations of Agri-Beef, a family owned Idaho/Washington based company that produces some of our country's finest prime graded beef.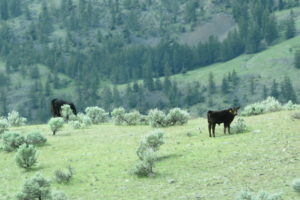 We learn about our food by reading the labels on the outside of the package. But there is no label big enough to tell everything that these people do to care for the animals and the environment. We could call them "all natural, organic, grass fed and free range". 70,000 acres of open range pretty much covers that. But what makes them special is the people who make it happen in order to provide us with such outstanding beef.
Founded in 1968 by Robert Rebholtz, Sr who dreamed of being a cowboy and owning his own cattle business. He started as a small family ranch and feeding company. It has now expanded to touch every part of the beef supply chain including ranching, cattle feeding, beef processing and beef marketing & sales. Today the company is still family owned and run by Robert Rebholtz Jr who follows his fathers standing principles of sustainability, animal well being and responsibility.
It all starts at the ranch. I stayed at the Double R Ranch in Loomis, WA. Kent and Lana Clark (and their four children) live on and run the 70,000 acre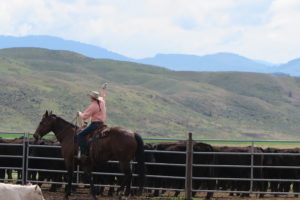 ranch with the help of three full time cowboys. It is so beautiful and peaceful. They drove us out to the range where the cattle and their calves live, graving on the green grasses. There is also a herd of Wagu cattle on the ranch. Kobe is the highest quality beef available in the US. They are a cross of the ancient Japanese Kobe beef and Angus beef. As summer comes, they'll continue to move the cattle farther up the range into cooler pastures, keeping the cattle comfortable and well fed.
We were lucky enough to be there when they were branding and vaccinating the calves. Seeing them working with the cattle, lassoes floating in the air, was mesmerizing. It made me realize how disconnected I was from what it takes (the caring people it takes) to make this all happen. The neighboring ranchers came to help, everyone is there for each other. Agri-Beef owns several ranches like Double R Ranch and then also purchases cattle from other select small ranchers who follow their guidelines on animal genetics, care and nutrition.
The time will come for the grown cattle to be moved to the El Oro Cattle Feeders in Moses Lake, Washingon. Approaching a feeding lot I had some perceived ideas of what I would see and smell. And, I was pleasantly surprised, it didn't smell! The cattle had plenty of roaming room within their lots (a lot for each group of cattle brought in from the same ranch). Each lot was feed a diet to slowly adjust them from a pure grass diet to a grain diet. There was lots of fresh water and feeding twice a day. The other thing I expected was to hear a lot of mooing going on. There wasn't, everyone seemed very happy and content. I actually thought they were quite the "Hams". Every time I walked over to them with my camera in hand, they all followed me. Posing for a photo shoot.
Agri-Beef also owns PerforMix Nutrition Systems. This company produces a molasses based vitamin and nutrition mix that is fed to cattle at the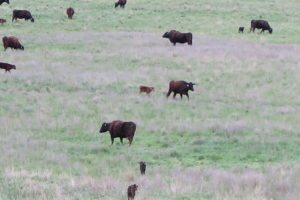 feeding lot. No surprise, it's a big hit with the cattle. Another special treat is the frozen French fries and tater tots. No wonder French fries taste so perfect with a steak!
The final phase, the Washington Beef Processing Plant in Toppenish, Washington. They employee over 900 employees. They have eleven USDA employees on site and a veterinarian at all times. Unlike other processors, they process 8 hours a day and clean and sanitize for 8 hours before the next day begins. It takes 23 minutes from when the cattle enter to when they are hung in the cooler. They'll hang for 24 hours. Fabrication takes 6 minutes. All this happens so quickly and efficiently because of their hard working, caring staff.
Then let's talk about Sustainability. From Ranch to Processing Plant, it's a vital and important step of the whole process. The Ranch has superior water and pasture management systems to protect and improve the natural environment. The bulls are sold to ranchers throughout the Northwest. Agri-Beef then purchases the calves from those ranches. At the Feeding Lot, the cattle's diet is sourced from farms within the Pacific Northwest. The waste from the cattle pens is composted and sold back to those farmers to use for growing their crops. At the Processing Plant their Water Treatment Facility treats, reconditions and tests the water they use. The water coming out of the treatment facility is now cleaner than the stream in which it is being discharged. The water is either reused or returned to its natural source. The water reclamation program and conservation has reduced water usage by 40%. They have a Biogas Dome that captures the methane gas from the water treatment plant and then uses this gas to heat the plant's boilers. This has reduced their natural gas usage by nearly 20%. And, when it comes to the cattle, every part of the cattle is repurposed. Nothing is thrown out or discarded.
When looking back at this experience, what stands out the most is the people. The amount of people, their care, love and pride for what they do is
what makes me get a whole new appreciation for that beautiful steak or burger I'm going to put on my grill this summer. Not only are they producing a superior product, they're doing it in a way that is honest and caring for our environment and the animals who live off that environment. So, when we're looking at those key marketing terms that I mentioned at the beginning, keep in mind, there is so much to the entire process. I don't think I could come up with single label to describe what I saw and the integrity that stands behind it.
Our leader and guide throughout this trip was Dave, their National Sales Manager. He spent 2 ½ days with us, explaining every step of the process and answering our endless questions. He did share this incredible recipe with me for a wine reduction over blue cheese that is a must to try. It's the perfect appetizer for your next grilled steak. So, what follows, is some guidelines for cooking that perfect steak and Dave's Double R Ranch Wine Reduction. Oh, did I mention the Lear Jet that flew us around Washington and Idaho. That was pretty cool too!