PARTY ON A TRAY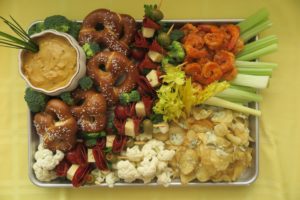 I decided to reinvent the way we serve food for a football party or, for that fact, any party. Usually there is a large variety of snacks spread throughout the gathering. Thinking outside the field, what if we put all the food on one tray. Or, do several trays with the full variety on each tray. No more leaning over or standing up (getting in the way of the Big Screen) to grab that delicious nibble of food. You could do this with all your typical football food, but I decided to mix the game up a bit.
A good portion of the prepping for this Party on a Tray can be done ahead of time. It may look a little overwhelming but it's not. I listed a time frame so that when it's time to get the food ready, you'll be ready!
Kettle Chips with Truffle Oil & Blue Cheese
Buffalo Shrimp with Celery Sticks
Pizza Skewers
Beer Cheese Dip with Soft Pretzels, Broccoli & Cauliflower
KETTLE CHIPS WITH TRUFFLE OIL & BLUE CHEESE
Heat oven to 350 degrees. Spread ½ the chips on a baking sheet, drizzle with ½ the oil, top with ½ of the blue cheese. Repeat a second layer on top. Bake for 8 until the cheese has melted.
BUFFALO SHRIMP WITH CELERY STICKS
Heat the hot sauce, butter and lemon juice over low heat. Whisk to incorporate butter. Once heated, add the fresh dill. *Can be done a few days in advance and refrigerated.

Peel and deveined shrimp. Dry with a paper towel. In a small bowl, toss shrimp with the salt, pepper and garlic.

Heat a non-stick skillet over medium heat. Once the pan is heated, spray with Pam. Add the shrimp in a single layer. Cook on one side for 3 minutes. Flip the shrimp and cook on the other side for 2 minutes. Reduce the heat to low. Add the sauce to the pan of shrimp, tossing to coat shrimp in hot sauce.
Heat the oil to 145 degrees. Remove from heat and let rest for 10 minutes. Add the herbs and allow to infuse for a couple hours. Pizza Oil is good for 30 days, unrefrigerated.

Note: I used leftover pizza infused olive oil to make a sauce less pizza. It was delicious! Or, drizzle on bread and top with Parmesan. Broil, for toasted pizza bread.

Skewer tomato, 1 leaf parsley, 1 slice pepperoni, 1 cube mozzarella, 1 slice pepperoni, 1 leaf parsley, 1 olive. Repeat on each skewer. Drizzle with pizza oil.

You can substitute fresh cherry size mozzarella balls for the regular chunked mozzarella.
BEER CHEESE DIP WITH SOFT PRETZELS, BROCCOLI & CAULIFLOWER
In a 2-3 quart saucepan, melt butter over medium low heat. Add flour and whisk until smooth. Let bubble for 5 minutes (don't allow to brown). Slowly add the beer, whisking constantly to avoid clumps. Add mustard, Worcestershire, garlic, salt, pepper, cayenne and parsley.

Slowly add the cheese, stirring to incorporate as it melts. Serve warm. Or refrigerate for up to 7 days. If you are preparing ahead of time, you may want to add a little water or beer if the dip becomes too thick.

Heat the pretzels according to the package's direction. Serve dip with pretzels, broccoli and cauliflower.
AHEAD OF TIME
1. Make Pizza Oil (good for 30 days unrefrigerated)
2. Make the Beer Cheese Dip (good for 7 days refrigerated)
3. Make the Buffalo Sauce (good for 7 days refrigerated…add the fresh dill when reheating)
4. Make Pizza Skewers (can be done one day ahead)
5. Cut celery sticks, broccoli flowerets and cauliflower (can be done one day ahead)
30 MINUTES BEFORE
1. Reheat Beer Cheese Dip
The cheese dip will heat up faster if it's at room temperature, but you can reheat when it's cold. Reheat on low. Be sure to continually whisk the dip while its reheating so it doesn't separate.
2. Make Hot Sauce for Buffalo Shrimp
If you're reheating, whisk to reincorporate the butter into the sauce.
3. Sauté shrimp and toss in sauce (keep warm)
4. Heat Kettle Chips with Truffle Oil & Blue Cheese
5. Heat Pretzels
*Both the kettle chips and the pretzels can be heated at the same time. 350 degrees for 8 minutes.
TOUCH DOWN…
TRAYING UP THE PARTY
Use a sheet pan that is 18 inches by 13 inches or something close to that. To complete the look, you want to make sure you cover every inch of the sheet pan with food. Snug food close to edges as well. I used the broccoli, cauliflower and celery to cover the areas around the other food.
To add some heights, I garnished the beer cheese dip with chives and placed celery leaves in the center of the tray.
No two trays will ever look alike. The fun part is to let your creativity guide you.
I love the concept of a "Party on a Tray". You can take this same concept and use all sorts of different food: Chicken Wings, Salami, Cheese Chunks, Breadsticks, Hummus & Pita Chips, Nachos. Whatever you want to serve, put it all on one tray and let your imagination run wild!