San Francisco Crab Cakes And Lemon Caper Dill Sauce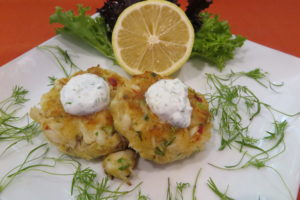 The west coast loves their crab cakes! It's all about the crab with these crab cakes. Onion and celery gives you a little crunch. The pimento peppers and parsley add some color. The Old Bay Seasoning and some fresh lemon juice tie it all together.
Top them with the Lemon Caper Dill Sauce or try the Remoulade Sauce or the Spicy Mango Sauce.
Try these other crab cake recipes:  Baltimore Crab Cakes and New Orleans Crab Cakes.
Check out the article entitled The Infinite Ways of Making Crab Cakes.
Drain crab in a small colander. Check for pieces of shell.

Chop onion, celery, pimento and parsley. Set to the side.

In a small bowl, combine the mayonnaise, egg, heavy cream, lemon juice and Old Bay Seasoning. Whisk to incorporate.

In a medium mixing bowl, add the drained crab and the panko crumbs. Mix gently. You don't want your crab to turn to shreds. Add the mayonnaise and egg mixture, very gently mix.

Form eight balls out of the crab mixture. Gently flatten to about a 1 inch thickness. Gently press in loose crab along the sides of your cake.
Heat a large skillet over medium heat. Add 2 tablespoons of canola oil. Do not let oil smoke. Add crab cakes and cook 1 ½ minutes to 3 minutes per side. The temperature of your pan will determine how long you cook. I like to check after a minute to determine if I need to increase or decrease the temperature.
Mix all the ingredients. Refrigerate.