Sauteed Soft Shell Crabs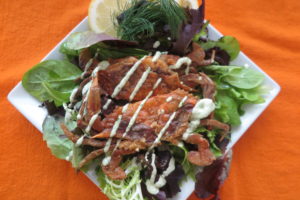 These delicious little creatures from the east coast are perfect on a salad. Perfect with our Wasabi Lemon Sauce drizzled over the top. Check out the article "Beautiful Swimmers – Chesapeake Bay Soft Shell Crabs".
Combine the flour and Old Bay Seasoning in a shallow pan.

Heat a large skillet over medium heat. Add the clarified butter.

Dredge the crabs is the seasoned flour, shaking the crab to release any excess flour. Sauté for 2-3 minutes per side. Be careful…the butter may pop when the water from the legs makes contact with the oil.

Plate the crabs and drizzle with fresh lemon juice.