Three Cheese Gnocchi Shell Pasta with Truffles
Tallagio, Aged Gruyere and Extra Sharp Cheddar
This is a cherished time of the year in Northern Michigan. The pace has slowed down from our hectic summer schedules. The weather can be absolutely fabulous and the milder temperatures are a welcome friend. By no means am I ready to put away the grill but the comfort foods of winter are beckoning my name. There is nothing more warm and cozy feeling than homemade macaroni and cheese. The fun part about macaroni and cheese is that it pairs perfectly with grilled and baked meats. So no matter what the weather brings this time of year, we can serve macaroni and cheese.
Warm Weather – Keep the Grill Going
Serve with grilled steaks, burgers, barbequed ribs, chicken, brats and hot dogs
Cool Weather – Warm Cozy Kitchen with the Oven Warming
Serve with Baked Chicken, Meatloaf, Beef Roast, Ham or as your main entrée with a beautiful side salad.
I couldn't present you with just any ordinary macaroni and cheese. I had to have fun with it. When it came to the cheese, I chose these three because of how well they would blend together. Step aside American Cheese and Velvetta. The Tallagio is a gorgeous Italian cheese with a pungent smell but has an extremely mild creamy flavor with a fruity tang. It's a perfect melting cheese. The Aged Gruyere from Switzerland gives the recipe some depth with its nutty, earthy flavor. The third cheese I chose was an Extra Sharp Cheddar. Macaroni and Cheese just needs to have some color. The extra sharp cheddar has a strong enough flavor to stand up to the Gruyere but not too much to hide the beauty of the Tallagio.
Macaroni and Cheese needs a little more flavor so it's not just pasta with a creamy cheese sauce. Traditionally, nutmeg has been the go to addition. But, the thought of nutmeg with my carefully selected cheeses just didn't sit right. So, along came the idea for truffles, garlic and shallots. Each one of these could over power the dish so I was very careful to keep them in check. To get the truffle flavor and avoid the huge expense of truffles, I used truffle butter to make my roux. I cooked a small amount of shallots and garlic in the truffle butter before adding my flour.
Then came the pasta. I couldn't use just plain old elbow noodles. How elegant would that be? I picked gnocchi shells. But there is a whole world of fun pasta out there. You want to use a pasta that will hold the cheese sauce. Other ideas would be penne, orecchiette, fusilli or cavatelli. The trick to making your pasta perfect for this dish is to cook it 2 minutes less than the package's recommendation. We want it cooked less than el dente. When you cook it to el dente, the pasta continues to cook when you put it in the oven. You end up with a mushy pasta covered in cheese sauce.
To make everything run smoothly so you can have fun cooking, you'll need to get all your ingredients ready. Once things are shredded, cubed and chopped it time to start playing!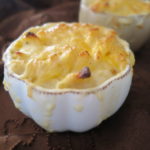 Three Cheese Gnocchi Shell Pasta with Truffles, Tallagio, Aged Gruyere and Extra Sharp Cheddar
| | | |
| --- | --- | --- |
| | | Three Cheese Gnocchi Shell Pasta with Truffles, Tallagio, Aged Gruyere and Extra Sharp Cheddar |
MAKING THE BECHAMEL SAUCE
Bring a large pot of water (slightly salted) to a boil. Add the pasta, stirring to avoid it from clumping together. Once the water returns to a boil, set your timer. The pasta I used suggested 8-10 minutes. I cooked mine for 7 minutes and it was a little less cooked than el dente. Stir occasionally as the pasta is boiling to keep it separate.

Drain the pasta in a colander and let cool in the sink. Use a large spoon and gently toss to keep the pasta from clumping together.
MAKING THE BECHAMEL SAUCE
Melt the butter in a large saucepan over medium low heat. Add the shallots and cook till their translucent (approximately 2 minutes). Add the garlic and cook an additional 30 seconds or so. Don't let the garlic brown.

Add the flour and whisk to create the roux. Whisk until you have no clumps of flour. Let the roux bubble in the saucepan for 3 minutes.

Slowly add 1 cup of milk at a time. Continue whisking to avoid clumps. Don't add more milk until the sauce has thickened. You want the sauce to coat your whisk.
Slowly add the ¾ of each cheese to the sauce, whisking constantly. Turn the heat down or off if the sauce starts to thicken too much.

In a large bowl, add the cheese sauce to the cooked pasta.

Add the last ¼ of the Tillageo to the pasta and cheese sauce. Delicately stir.
You can prepare to this point up to a day ahead.

Preheat oven to 400 degrees.

Pour pasta with cheese sauce into your baking dish of choice.

Top macaroni and cheese with the leftover ¼ of the Gruyere and Cheddar.

Place dish or dishes on to baking sheet lined with parchment paper.

Bake for 20 minutes. The top should turn golden brown. If it doesn't, place under the broiler to get a golden brown crust.
SERVING DISH
Choose one of the three options for cooking and serving.
4 – 8 oz Ramekins (Serves 4 as a main entrée)
8 – 4 oz Ramekins (Serves 8 as a side dish)
Shallow Baking Dish