MEMORIES OF CHRISTMAS
Very Creamy Oyster Stew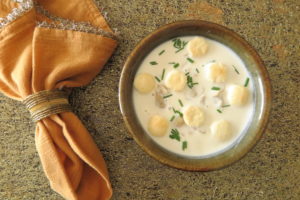 Digging back (way back) into my first memories of Christmas Eve, it's visions of the Christmas tree with all the festive wrapped gifts; the nativity scene (all those little animals and little people I was just dying to play with – but wasn't allowed); the delicious cookies; and the long table set with china, wine glasses and candles.
As a child, obviously, the meal was not the event. It was just necessary to be well behaved if we were going to get the real event of opening all those presents! As far as the food, I was no food snob, I could get through just about anything. Except…the oyster stew. Really! Hot milk and butter with those blobs of something indefinable floating in it. Now, as an adult, I decided to revisit this tradition.
So why did both my sets of grandparents partake in this tradition? It comes from our European ancestors who brought the tradition of eating fish on Christmas Eve when they immigrated to the U.S. But transporting fish by horse and wagon to the interior of our country was not feasible unless…you were an oyster. Come December when temperatures were cold enough, fish purveyors would box up oysters in sawdust and seaweed, load them on wagons and send them off for up to a two-week journey.
In my revision of this classic stew I added potatoes (which I purred) for thickening and leeks, shallots, and wine for depth of flavor. So, here's to doing just a little tweak on childhood memories!
"Our hearts grow tender with childhood memories and love of kindred, and we are better throughout the year for having, in spirit, become a child again at Christmastime." – Laura Ingalls Wilder
In a small saucepan, heat milk and cream over low heat. Do not let boil.

Cut potato and place cubed potato in cold water and set to the side.

Cut leeks and rinse in cold water to remove dirt. Drain. In a 2 or 3-quart saucepan, melt butter over medium heat until bubbling. Add leeks and shallots, sauté for 3-4 minutes or until softened. Add chardonnay and simmer until reduce in half (about 3 minutes). Add the warmed milk, cream, drained potatoes, salt and white pepper. Cook over low heat (do not let boil) for 20-30 minutes or until potatoes are soft.

Puree stew with an immersion wand or in a blender until smooth. Taste and add additional salt and pepper, if needed. Can be made to this point up to 2 days before.

Slowly warm stew over low heat (do not let boil). Add drained oysters and ¼ cup of oyster liquor (add additional oyster liquor if you want a stronger oyster flavor). Cook oysters for 5-7 minutes or just until they start to curl. Garnish with fresh chopped chives. Serve immediately. Offer oyster crackers, on the side.
This recipe yields about 5-6 oysters per person if serving 12 ounce portions and 3-4 oysters per person if serving 8 ounce portions. Feel free to buy more oysters if you would like more oysters per person.
It's very important not to let the milk boil. Boiling will cause the stew to curdle.