A Fruity Grill

What could be prettier and tastier then fresh fruit on your grill? The heat caramelizes the natural sugars of the fruit leaving those beautiful grill marks. This quick process (a couple minutes on each side) intensifies their sweetness.
My mind exploded with recipe ideas. Assuming the newspaper doesn't have the space nor you the time to read through my enormous amount of ideas, I decided to share some fun combinations and just a few recipes.
Though a lot of recipes for grilled fruits lean toward desserts, I explored the idea of using them throughout the meal. I know that I am more likely to grill fruit as a part of meal. By the time it comes to dessert, I'm not going to feel like grilling.
Appetizers:
Grilled Fig, Peach, Pear, Apple or Nectarine – Goat Cheese – Honey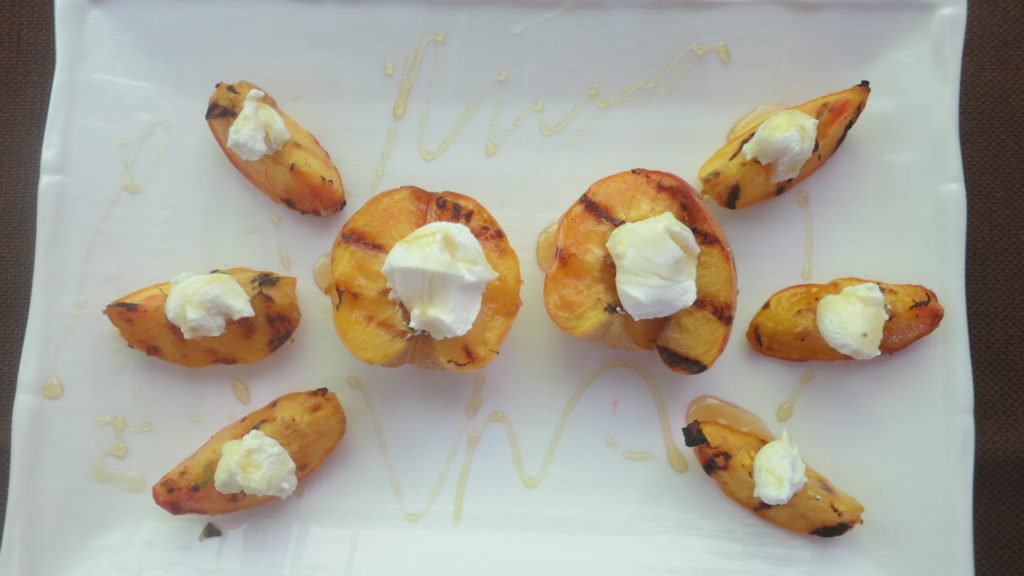 Grilled Tomato & Avocado – Fresh Mozzarella – Basil – On a Crostini – Drizzled with Balsamic Vinegar
Thin slice a baguette. Drizzle with olive oil and season with fresh ground pepper and smoked sea salt. Bake at 350 degrees for 25 minutes.
Season tomatoes with salt & fresh ground pepper.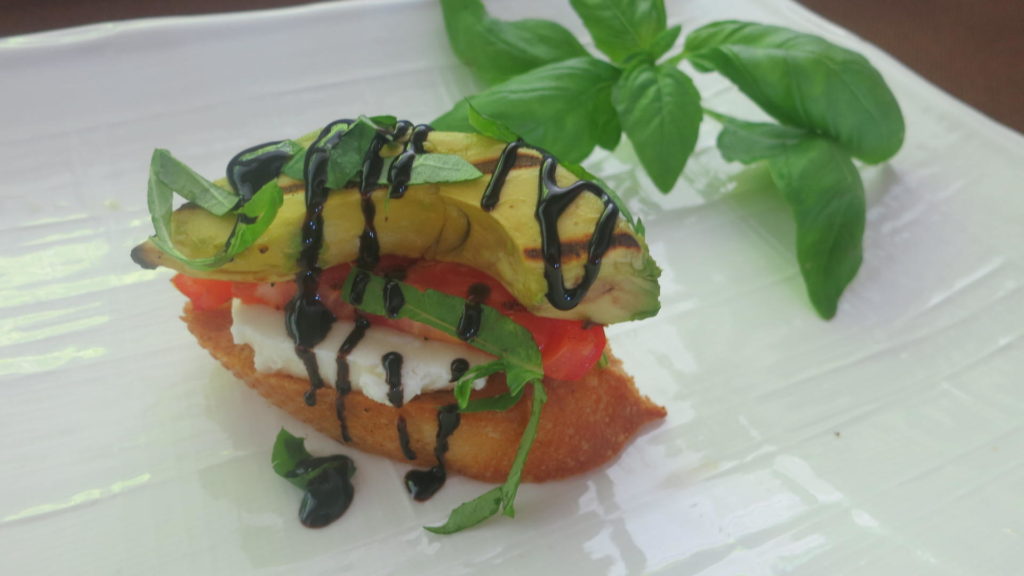 Grilled Melon – Wrapped in Prosciutto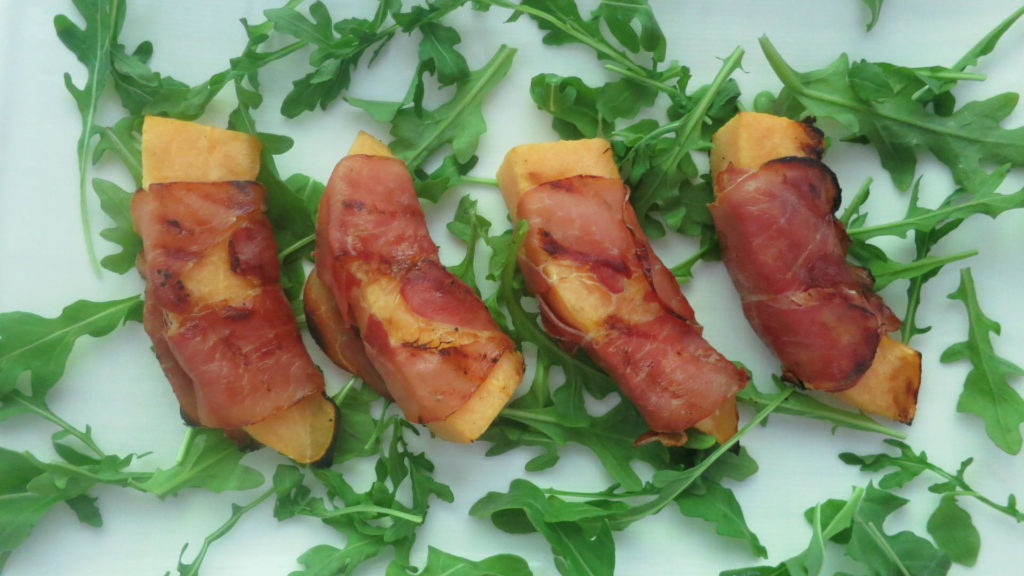 Grilled Strawberry & Pineapple Skewers & Grilled Honey Dew, Cantaloupe & Watermelon Skewers
With Ginger Infused White Balsamic Reduction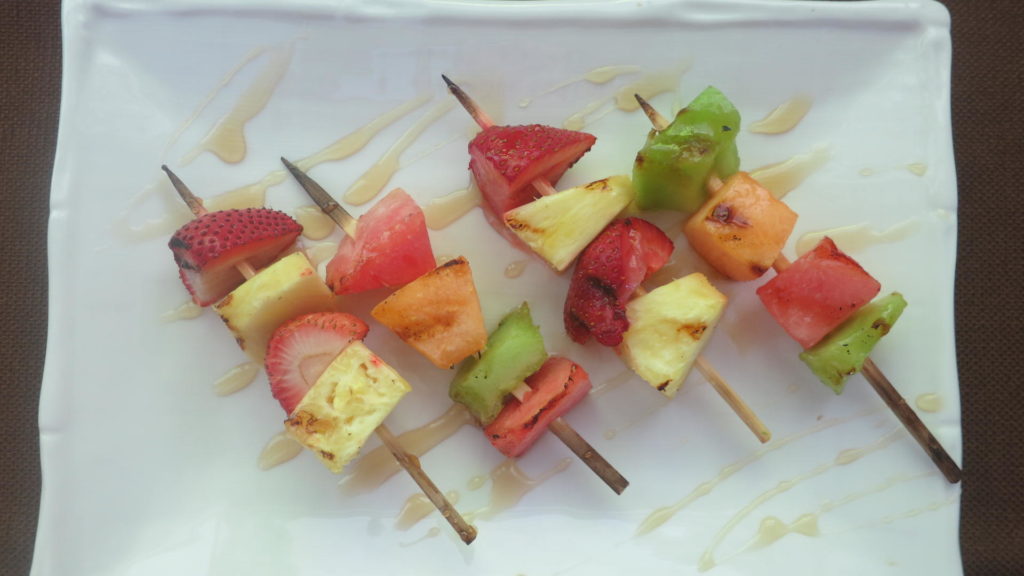 Salads:
Grilled Watermelon – Lemon Basil – Feta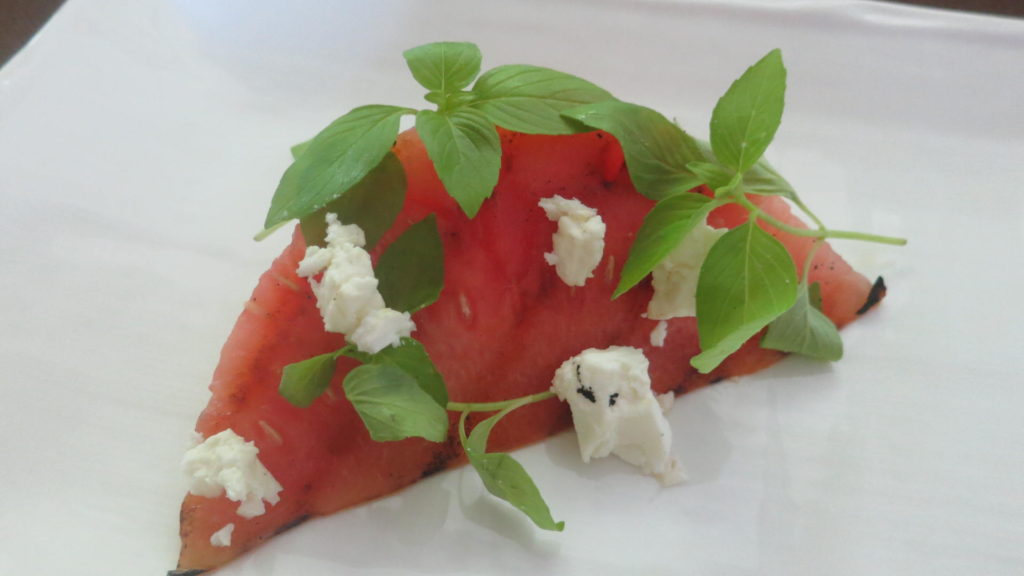 Grilled Peach, Pear, Nectarine – Spring Mix- Gorgonzola – Roasted Walnuts – Honey Mustard Vinaigrette
Vinaigrette: 1 garlic clove (minced), 1 cup olive oil, 1 tablespoon honey, 1 tablespoon Dijon mustard, 3 tablespoons white wine vinegar, salt & fresh ground pepper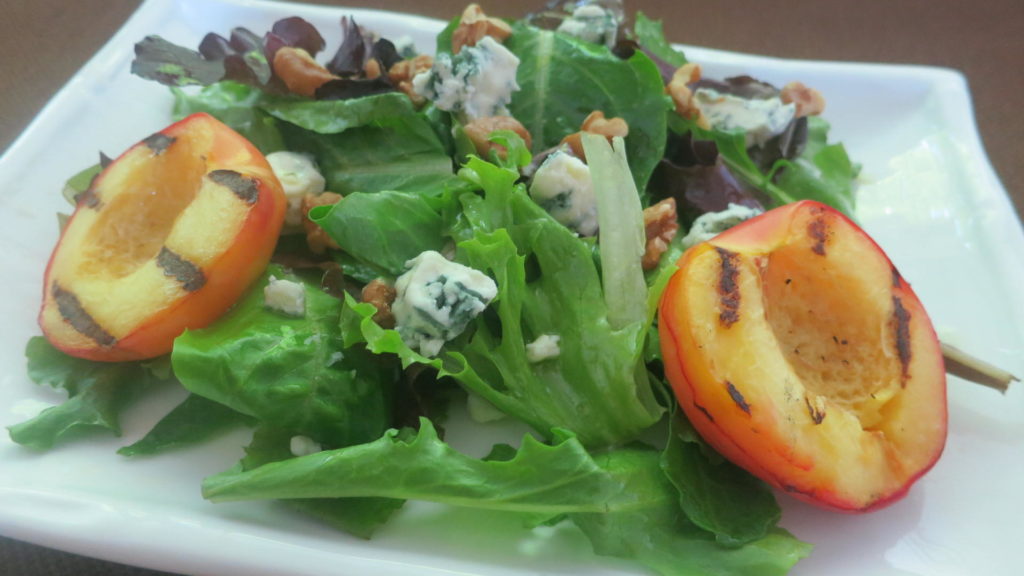 Grilled Pineapple Ring – Grilled Strawberries – Pomegranate Balsamic Glaze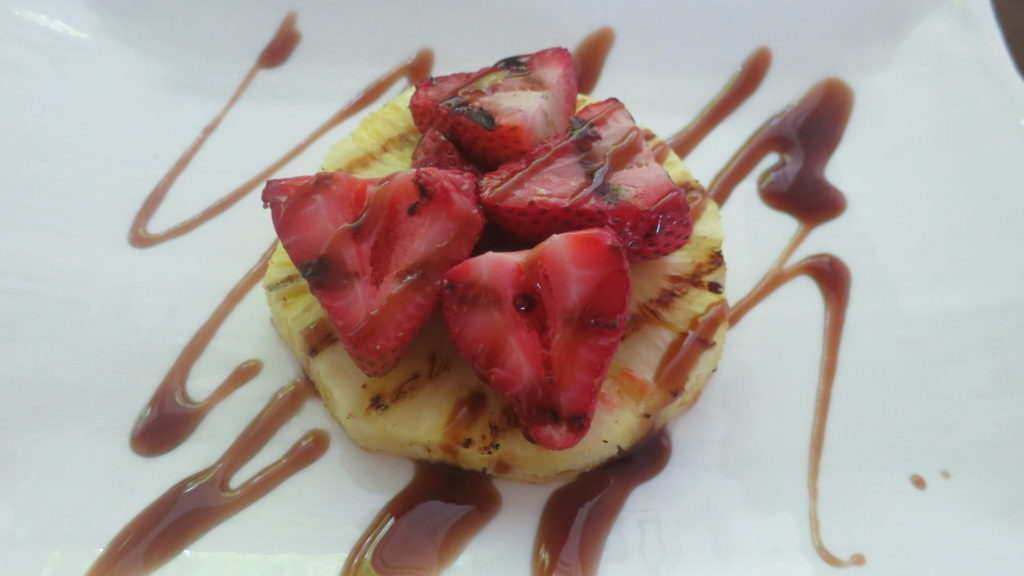 Pizza:
Grilled Pears – Grated Mozzarella – Smoked Mozzarella – Chives – Olive Oil – Arugula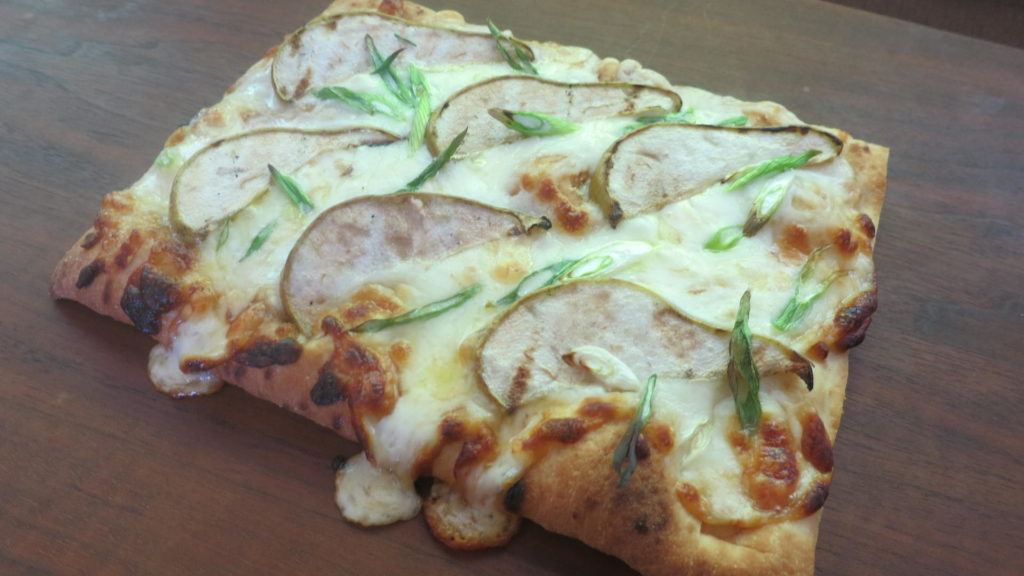 Grilled Peaches – Grated Mozzarella -Goat Cheese – Micro Greens – Ginger Infused White Balsamic Vinegar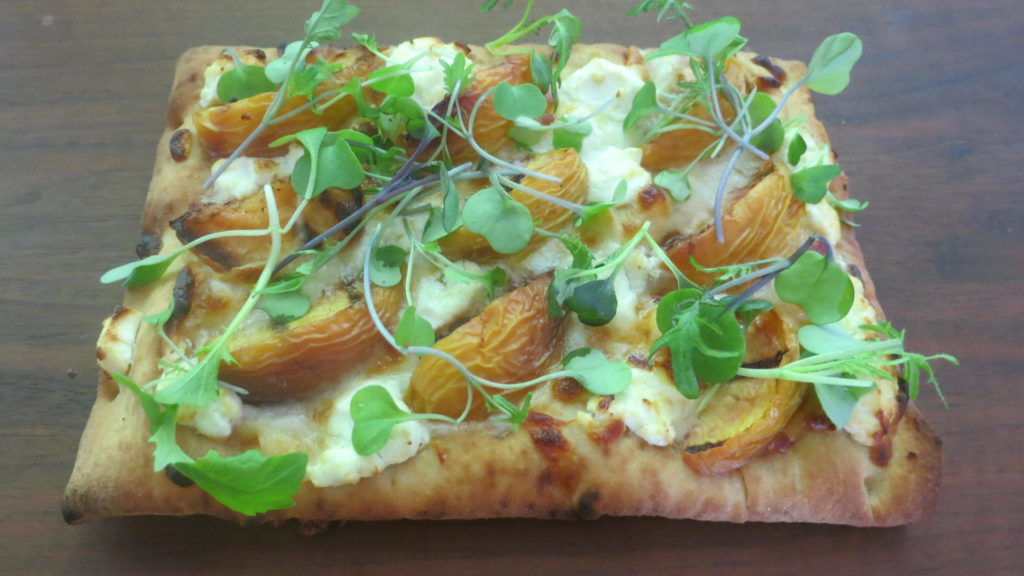 Grilled Pineapple – Ham – Grated Mozzarella – Fresh Mozzarella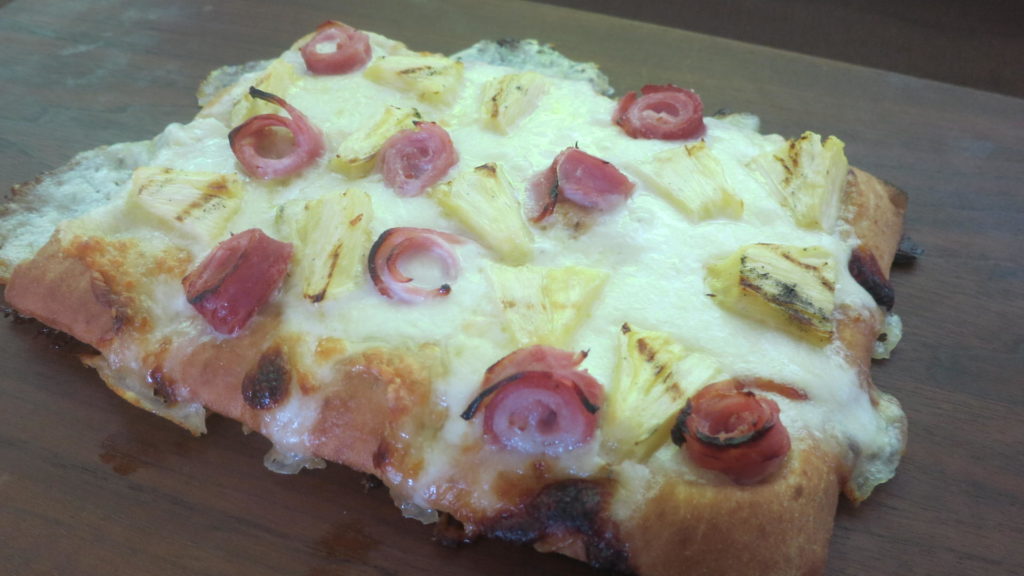 Grilled Apples & Pears – Sharp Cheddar – Red Onion
Add a dollop of Dijon mustard to each slice after cooking.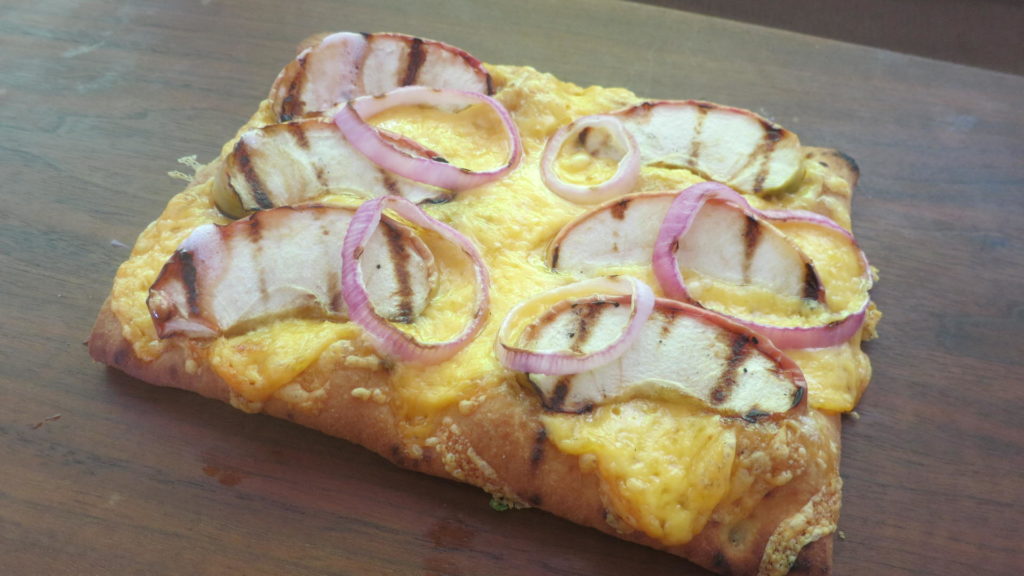 Meat & Fish:
Grilled Jerk Chicken & Peach Kebob
Grilled Sea Bass with Grilled Mixed Fruit Salsa
2 cups grilled fruit, 2 grilled jalapenos, 2 grilled thick slices of red onion, 4 tablespoons chopped
cilantro, cayenne (optional – sprinkle some in if you want some more heat)
Options for fruit: pineapple, strawberries, watermelon, honey dew, cantaloupe, peaches, nectarines, mango
Grilled Pork Tenderloin with Grilled Apples drizzled with Pomegranate Glaze
Here's a how it's done:
1. You need a clean grill at 400-450 degrees
a. Do not grill in the same location as you cooked other foods, the fruit will impart some of the flavor from the other foods.
2. Lightly oil your fruit.
3. Oil your grill grates lightly.
4. Depending on the size of the fruit it should take 1-2 minutes per side
5. Flip when you have achieved the grill marks on both sides of the fruit
6. You're Done!
Other Tips:
1. If you're skewering your fruit, be sure to soak wooden skewers in water for 30 minutes.
2. Don't flip the fruit if it is sticking to the grate. It is either not ready or your grill isn't hot enough and you may want to turn it up.