BEEF BOURGUIGNON(boor-gee-nyawn)
Beef Stew in Red Wine with Pancetta, Pearl Onions & Baby Bella Mushrooms
a.k.a. Beef Burgundy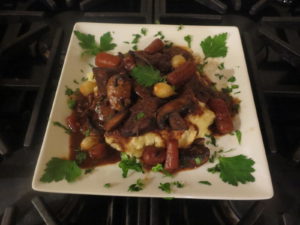 Boeuf Bourguignon originated in Burgundy, France. The area is not only known for their beautiful wines but the cattle that they raise there are very special too. Charolais cattle, reputed for their distinct taste, low fat content (they feed on hay, fodder & cereal) and their mild temperament.
It was a peasant dish using ingredients grown in their region: beef, pork, wine, carrots, tomatoes, mushrooms and onions. Every family had it's own tradition of preparing it. So, it's fair to say, that today we too can add our own creativity to it. The wine was used to tenderize the meat. Seeing I don't have access to Charolais cattle with it's lean texture, I chose to use an English Roast, which is leaner than a chuck roast. Top sirloin would work well too. Most recipes call for chuck roast, a fatter cut of meat.
The famous French chef Auguste Escoffier is the one who took this peasant dish and introduced it to the upper echelon. There it became Haute Cuisine, an elegant dish of high quality food following traditional French cuisine. His published recipe in 1903 used a whole piece of meat. It was later that Julia Child transformed this recipe even further in her book "Mastering the Art of French Cooking ". Her recipe cubed the meat. Her book brought it across the pond, introducing a new country and a new generation to this French pheasant recipe.
This is my rendition of this classic recipe. Just like the peasant, I'm adapting it to my life style. I don't have hours, even days, to spend preparing a dish. But, I do so enjoy, the flavors that expound when a dish is cooked long and slow. So, I have created the main part of the dish using only my dutch oven. I prepared it the day before, allowing the flavors to expand even more overnight. The finale is adding the pearl onions and sautéed mushrooms when you're ready to reheat.
Serving over mashed potatoes sounds like the most incredible combination. I highly recommend it, if time works for you. You can take Julia's recommendation and serve it with boiled potatoes. That will make life a little easier when you want to enjoy your family and friends.
Beef Bourguignon
Ingredients
10

ounce

Pancetta

cut ¼ inch thick, diced

1

tablespoon

olive oil or vegetable oil

3

pound

English Roast

diced into 1 ½ inch pieces

1

pound

Winter Carrots

peeled and cut into 1 inch chunks

1

cup

Onion

diced, 1 medium onion

4

garlic cloves

minced

Kosher Salt & Pepper

to taste

3

tablespoons

Flour

1

bottle

Pinot Noir

2

cups

Hot Water with 1 ½ tablespoons Beef Base

whisk to dissolve

2

tablespoons

Tomato Paste

2

teaspoons

Tresh thyme

1

Bay Leaf

10

ounce

Pearl Onions

Pinch of Salt

1

pound

Baby Bella Mushrooms

2

tablespoons

Butter

1

tablespoons

Canola or Vegetable Oil
Instructions
Preheat oven to 350 degrees. Heat your Dutch oven with the oil over medium low heat. Add the pancetta. Cook till it's browned. Use a screen cover to keep the oil from splattering your stovetop. When browned, remove with a slotted spoon and set to the side.

Dry the beef with a paper towel. Season with kosher salt and fresh ground pepper. In three separate batches, brown the beef in the Dutch oven (don't let the beef cubes touch), setting the browned cubed on a plate.

In the same Dutch oven, add the carrots, onions and season with salt & pepper. Sauté for 10-15 minutes. Add the garlic and sauté for an additional 2-3 minutes.

Add the beef (and the juices) and the pancetta to the Dutch oven. Sprinkle with the flour. Stir to incorporate. Continue stirring for an additional four minutes. The bottom and sides will brown.

Slowly add the wine, scraping the bottom and sides of the pan to remove the browning. This will take a while, but as you keep adding wine the browning will lift. Add the beef stock, tomato paste, thyme and bay leaf. Bring to a simmer. Place in the oven (on the bottom third of the oven) and cook for 2 ½ hours.

Cut the root end off of each onion (be careful not to cut off to far into the onion). Put in a small saucepan and cover with cold water. Add a generous pinch of salt. Bring to a boil. As soon as it starts to boil, drain in small colander and rinse with cold water. Pinch the outer skin off and set the onion aside or refrigerate overnight.

Use a paper towel or mushroom brush and remove any dirt from the mushrooms. Cut the tough end of the mushroom stem off. Slice the mushrooms. In a sauté large pan, heat butter and oil. You want to give your mushrooms lots of room so they don't get overcrowded and steam. Once the butter/oil is hot, add the mushrooms. Saute for 8-10 minutes or until golden brown and all the juices have absorbed. Set to the side or refrigerate overnight.

At this point you can cool to reheat the next day or continue on…

If reheating, warm the Bourguignon on a low heat to s slow simmer. Add a couple cups of water if the Bourguignon is too thick. Add the onions and mushrooms and continue cooking for an additional 30 minutes.

Serve over potatoes with warm bread on the side.
Notes
French Burgundy Wine
The Burgundy region of France produces both White & Red Burgundy wine, considered the finest wines in the world. It is the land of this region that impacts the unique and very special flavors of these wines.
French Burgundy wines can be very intimidating but there are a few basics that can help you understand them better. Red Burgundy wine is made from Pinot Noir grapes and White Burgundy wine is made from the Chardonnay grape.
There are four classifications of wines from this region.
Grand Cru: The best single vineyards and also the most expensive.
Premiere Cru: Also single vineyards, just a step down from Grand Cru wines. They are still very special and still pricey.
Village Wines: Created from several vineyards within a village. These wines list the name of the village on their wine bottles.
Regional Wines: These are produced from several vineyards from several different villages. These wines represent about 50% of all wine sold from Burgundy. They are excellent wines at more affordable prices.
For this recipe I would recommend using a regional French Burgundy or you can create a beautiful Beef Bourguignon using any Pinot Noir. I would not use a very expensive wine for cooking. But do keep in mind the wine is a main focus of this dish. Use a wine you enjoy drinking. If you wouldn't drink it, you sure don't want to cook with it.
Bon Appetit!