Greek Chicken & Rice Soup with Lemon Egg Sauce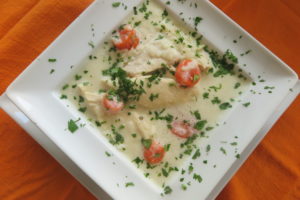 In Greece, almost every yard is adorned with a lemon tree or two.  The abundance of lemons has made this delightfully bright fruit a common ingredient in their culinary traditions.  The addition of the Lemon Egg Sauce makes what would otherwise be a heavier meal into a healthier meal without sacrificing substance.  To thicken soups, they whisk eggs with lemon juice and warm broth.  This sauce is then slowly added to the soup, creating an amazing satin like texture with a bright lemony flavor. 
Avgolemono Sauce is more than a soup thickener and flavor enhancer.  You can put it on top of anything that is elevated with the flavor of lemon: steamed vegetables, chicken, fish, seafood.  In Greece, they top stuffed cabbage rolls with the sauce.
There are as many variations of each of these soups as there are families in Greece.  It's no different than us with our passion for Chicken Noodle Soup the way our mother or grandmother made it.  The consistent part is the addition of Avgolemono Sauce at the end.  The following recipes are My Greek Soups, adding the additional flavors I thought would make a very lovely Chicken & Rice and Meatball Soup.
I made a chicken stock, but you could take a short cut and use store bought broth and add cooked chicken to it.  Even try the Lemon Egg Sauce in any soup you make that is broth based and does not contain any other thickeners (flour, cornstarch, cream).
The trick to making these Greek soups is making sure the sauce is the same temperature as the soup.  You want the broth added to your eggs and lemons to be warm (just like the soup).  A colder sauce will curdle in your warm soup.  Other than that, it's just a matter of whisking away!
Try the Greek Meatball Soups too.
Chicken & Rice Soup with Lemon Egg Sauce
Ingredients
Making the Soup:
3 1/2

pound

Whole Chicken

3

large stalks

Celery

cut into large pieces

1/2

pound

Carrots

peeled, cut into large pieces

1

White Onion

peeled and quartered

2

Bay Leaf

1

teaspoon

Black Peppercorns

1

teaspoon

Salt

1

cup

White Rice

Wild Rice Blend or Orzo

Salt & Fresh Pepper

to taste
Avgolemono Sauce
3

Farm Fresh Eggs

room temperature

2

Lemons

juiced

2

ladels

Warm Broth
Instructions
Making the soup:
In a soup kettle; cover chicken, celery, carrots, onion, bay leaf, peppercorns and salt with cold water. Bring to a boil and immediately reduce to a simmer. Partially cover the pot, allowing steam to escape. Cook for 1 ½ hours, skimming off impurities as they rise to the top. If you place the soup kettle ½ on the heat, it will push the impurities and fat to the side of the kettle that is off the heat. This will make it easier to skim off.

Place the colander over a large bowl. Strain the broth through the colander into the bowl. Set the chicken and vegetables to the side to cool. Strain the broth a second time through a fine sieve. You can also refrigerate the broth overnight and the fat will solidify, making it easy to remove the next day.

Once the chicken and vegetables have cooled. Pull meat from the bones and chop carrots. Discard bones, celery and onions.

Bring the broth to a boil. Reduce heat to medium low. Add the chicken, carrots and rice and cook until rice is cooked through, about 20-25 minutes. Reduce heat to keep warm.

Make the Avgolemono Sauce (with warm broth added).

Slowly add the sauce, gently stirring into the soup. Season with salt and fresh ground pepper. Serve.
Avgolemono Sauce
In a mixing bowl (mix by hand or use a hand mixer), beat eggs (whisk until frothy). Gradually add lemon juice, whisking constantly. Gradually add warm broth, whisking constantly. Sauce will be silky and smooth.