LITTLE THINGS MAKE A GREAT IMPACT
Cornish Game Hen with Orange Brandy Glaze
 and Wild Rice Blend with Apples & Cranberries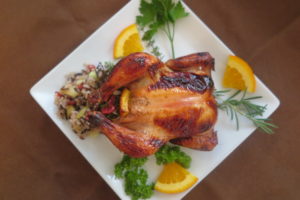 The holidays are time where we stop to enjoy and appreciate all those around us and all we have to be thankful for. For some, it's a big gathering. The 20-pound turkey is surrounded by a village of people (some related, some adopted for the day). It's a busy little village. But, sometimes, not everyone can come to our little village. That's when we can enjoy "Little Things with A Great Impact". Step aside, Mr. Tom Turkey. There's a beautiful little bird that would love to be the centerpiece your special dinner, no matter how small the gathering is.
The Cornish Game Hen. She's a chicken. Not a baby chicken, a breed of chicken. Its petite size makes her a perfect one size serving. I'm not being truly honest; the name is deceiving. There's a 50% chance she is a he. And, she (or he) is not wild game. It's a cross breed of White Rock and Cornish chickens.
So, if you find yourself this holiday season with a little gathering of some very special people, there's an option that won't have you eating turkey leftovers till spring!
No matter what the size of your gathering, you don't want to do all your cooking at once. Here's a couple tips to make the whole event a little more relaxing. The Orange Brandy glaze and the ingredients for the wild rice can be done the day before. You can even make the entire wild rice recipe the day before and reheat while you're cooking the Cornish Hens. If the rice seems a little dry the next day, just add a little water or melted butter to remoisten.
Cornish Game Hen with Orange Brandy Glazes
Ingredients
WILD RICE BLEND WITH APPLES & CRANBERRIES
1 1/2

tablespoons

Butter

1/2

cup

Celery

sliced ¼ inch thick

1

Granny Smith Apple

peeled, cored, cut into ½ inch chunks

Salt & Pepper

to taste

1/3

cup

Scallions

sliced

1/2

cup

Dried Cranberries

1 3/4

cup

Chicken Stock

1

cup

Wild Rice Blend

1

tablespoon

Butter

1

teaspoon

Cider Apple Vinegar

3

sprgs

fresh thyme

tied in a bundle
CORNISH GAME HENS WITH ORANGE BRANDY GLAZE
1 1/2

cups

Orange Juice

2

tablespoons

Agave

2

tablespoons

Maple Syrup

2

tablespoons

Brandy

2

tablespoons

Cold Butter

4

Cornish Game Hens

Salt & Pepper

to taste

Pam Cooking Spray

1

Orange

cut into 1-inch pieces

4

sprigs

Fresh Rosemary

4

sprigs

fresh thyme

4

sprigs

Flat Leaf Parsley

4

sprigs

Curly Parsley

Salt & Fresh Ground Pepper

Fresh Rosemary, Thyme, Parsley and Orange Slices

for garnish
Instructions
WILD RICE BLEND WITH APPLES & CRANBERRIES
In a 10-inch sauté pan over medium low heat, melt butter until it's foaming. Add celery and apples. Sauté for 5-8 minutes or until apples and celery are lightly browned and still have a little crunch. Remove from the heat. Once they have cooled, add scallions and dried cranberries. Set to the side to use with the rice later. Can be done the day before.

Add apple cranberry mixture to rice. Season with cider vinegar, salt and pepper. Cover and keep in a 150-degree oven for up to 30 minutes or reheat the following day (adding water or melted butter to moisten, if needed).
CORNISH GAME HENS WITH ORANGE BRANDY GLAZE
In a small sauté pan over low heat, combine all the ingredients EXCEPT the butter. Simmer (light boil) until reduced in half (should be approximately 6 ounces). Could take 30 minutes or more. Add the cold butter, whisking to incorporate. Let cool or refrigerate and use the next day.

Preheat oven to 350 degrees. Line a baking sheet or roasting pan with foil. Place a rack on the sheet pan and spray with Pam.

Rinse hens in cold water. Pat dry with paper towel. Season the birds with salt and pepper, inside and out. Stuff cavity of each bird with orange pieces, rosemary, thyme and parsley.

Place hens on baking rack, upside down and brush with Orange Glaze. Bake for 15 minutes. Flip bird over and tie the legs together. Brush with glaze again. Continue cooking for another 45 minutes, glazing every 15 minutes. The internal temperature of the birds needs to reach 170 degrees. You may need an additional 15 minutes to reach that temperature. If the skin becomes to dark during the process, cover dark areas with a pieces of foil.

Let rest for 10 minutes. Remove cooked herbs and oranges from cavity. Stuff with fresh herbs and orange slices. Serve with the wild rice.