Greek Meatball Soup with Lemon Egg Sauce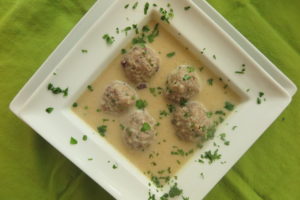 In Greece, almost every yard is adorned with a lemon tree or two.  The abundance of lemons has made this delightfully bright fruit a common ingredient in their culinary traditions.  The addition of the Lemon Egg Sauce makes what would otherwise be a heavier meal into a healthier meal without sacrificing substance.  To thicken soups, they whisk eggs with lemon juice and warm broth.  This sauce is then slowly added to the soup, creating an amazing satin like texture with a bright lemony flavor. 
Avgolemono Sauce is more than a soup thickener and flavor enhancer.  You can put it on top of anything that is elevated with the flavor of lemon: steamed vegetables, chicken, fish, seafood.  In Greece, they top stuffed cabbage rolls with the sauce.
There are as many variations of each of these soups as there are families in Greece.  It's no different than us with our passion for Chicken Noodle Soup the way our mother or grandmother made it.  The consistent part is the addition of Avgolemono Sauce at the end.  The following recipes are My Greek Soups, adding the additional flavors I thought would make a very lovely Chicken & Rice and Meatball Soup.
Even try the Lemon Egg Sauce in any soup you make that is broth based and does not contain any other thickeners (flour, cornstarch, cream).
The trick to making these Greek soups is making sure the sauce is the same temperature as the soup.  You want the broth added to your eggs and lemons to be warm (just like the soup).  A colder sauce will curdle in your warm soup.  Other than that, it's just a matter of whisking away!
Try the Greek Chicken & Rice Soup with Lemon Sauce too.
Greek Meatball Soup with Lemon Egg Sauce
Ingredients
Making the Soup:
1 1/2

pound

Ground Sirloin

2

tablespoons

Kalamata Olives

chopped

4

tablespoons

Feta Cheese

chopped

1/4

cup

Rice

short grain

3

tablespoons

Onion

grated

2

tablespoon

Fresh parsley

minced

2

tablespoons

fresh dill

finely chopped (or 2 teaspoons dried dill)

1

Egg

beaten

1

teaspoon

Coriander

1

teaspoon

Salt

Fresh Ground Pepper

Flour

to roll meatballs in

4

cups

Chicken Stock

4

cups

Beef Stock

Salt & Fresh Ground Pepper

to taste
Avgolemono Sauce
3

Farm Fresh Eggs

room temperature

2

Lemons

juiced

2

ladles

Warm Broth
Instructions
Making the Soup:
Combine all the above ingredients (except the flour and stock), mixing thoroughly. Make 1 ounce meatballs (approximately 20-25 meatballs). Refrigerate for 15 minutes. (This will keep the meatballs from falling apart while cooking).

Put some flour in a shallow bowl. Roll meatballs in flour, shaking off excess flour. Set to the side.

In a soup kettle, bring stock to a boil. Reduce heat, add the meatballs and cook covered gently for 25 minutes. Keep soup warm.

Make the Avgolemono Sauce (tempered with the warm stock).

Slowly add the sauce, whisking into the soup. Season with salt and fresh ground pepper. Serve.
Avgolemono Sauce
In a mixing bowl (mix by hand or use a hand mixer), beat eggs (whisk until frothy). Gradually add lemon juice, whisking constantly. Gradually add warm broth, whisking constantly. Sauce will be silky and smooth.