NICOISE SALAD WITH GRILLED AHI TUNA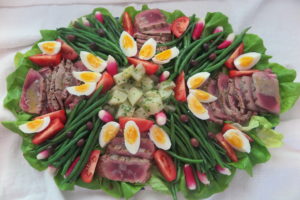 Doesn't it sound so very beautiful and so very French? As French cooking goes this is one French dish that is very approachable and explodes with brightness and screams summer! The word "Niçoise" means "In the Style of Nice, France". It is the ingredients from this area that make this salad "Niçoise". Local ingredients included fresh tuna, anchovies, French green beans, potatoes, eggs (from the chickens in the yard), olives and a vinaigrette of fresh lemon juice and olive oil. After these requirements, the world is our French Riviera!
So, just because we can, let's make this our Niçoise salad. For starters, not everyone loves anchovies. However, there aren't many people who don't like Caesar salad dressing. To keep within the salad's original origins, I put the anchovies in the dressing. They add such an interesting depth of flavor without a strong anchovy flavor. I kept to fresh tuna, no canned tuna here. Then I added fresh tomato (not uncommon in revised Niçoise salads) and radishes (you have to love that peppery flavor with the tuna). Then it comes to the egg. Hard boiled eggs are a part of the majority of Niçoise salad recipes. So, it's not the egg that I want to change, it's how the egg is cooked. A hard-boiled egg has a dry yolk. To take your salad to the French standard, the egg needs to have a medium cooked yolk. It can't be runny, but it needs to be moist.
J'adore la cuisine francaise! (I love French cuisine!)
Grilled Tuna Niçoise
You can prep the salad ahead of time or the day before. Assemble and grill the tuna just before serving.
Niçoise Salad with Grilled Ahi Tuna
Ingredients
FRENCH POTATO SALAD
2

pounds

Russet Potatoes

peeled and diced into ¾ inch cubes

2

tablespoons

Kosher Salt

2

tablespoons

White Vinegar

THE DRESSING:

2

tablespoons

Shallots,

minced

Sea Salt and White Pepper

to taste

1/4

cup

Chicken Stock

or vegetable stock

1 1/2

tablespoons

Extra Virgin Olive Oil

1

tablespoon

White Balsamic Vinegar

3

tablespoons

Fresh parsley

chopped
FRENCH GREEN BEANS WITH LEMON DRESSING
1-

pound

French Green Beans

2

tablespoons

Kosher Salt

1/2

tablespoon

Dijon Mustard

3

tablespoon

Fresh Lemon Juice

1/2

cup

Extra Virgin Olive Oil

2

Anchovies

smashed (optional)

3/4

teaspoon

Sea Salt

Fresh Ground Pepper

to taste
GRILLING THE TUNA
2

pounds

Ahi Tuna

Olive Oil

Sea Salt & Fresh Ground Pepper
ASSEMBLING THE SALAD
2

Heads of Bibb Lettuce

washed and dried

2

tablespoons

Extra Virgin Olive Oil

Coarse Sea Salt

to taste

2

Tomatoes

cut each tomato into 8 wedges, toss with 2 tablespoons

Lemon Dressing

2

pounds

Grilled Tuna

sliced, drizzled with 2 tablespoons Lemon Dressing

16

French breakfast radishes

4

Medium Boiled Eggs

quartered

1/2

cup

Niçoise Olives

or Kalamata
Instructions
FRENCH POTATO SALAD
Place potatoes in a pot filled with 2 quarts of cold water, 2 tablespoons salt and 2 tablespoons white vinegar. Place on high heat. Once the potatoes have reached a boil, reduce heat and continue to gently boil for 5 minutes. Drain and let cool.

In a small bowl combine the shallots, salt, white pepper, chicken stock, olive oil and white balsamic vinegar. Whisk to combine. Toss potatoes with the dressing and parsley. You can do this when the potatoes are still warm. This will help the potatoes absorb the dressing. Refrigerate until you're ready to assemble the salad.
FRENCH GREEN BEANS WITH LEMON DRESSING
Add 2 quarts of water and 2 tablespoons of salt to a large saucepan. Bring the water to a boil, add the green beans and cook for 3 minutes making sure the beans are still firm and crisp. Remove and place in a bowl of ice water.

Whisk all the dressing ingredients together. If using the anchovies, whisk until the anchovies have dissolved into the dressing or mix in a mini food processor.

Drain and dry the green beans. Toss beans with 2 tablespoons of Lemon Dressing. Set the rest of the dressing to the side until it's time to assemble the salad.
MEDIUM BOILED EGG
Place eggs in a saucepan. Add cold water, covering eggs by 2 inches. Turn heat on high. Once the water starts boiling, set your timer for 7 minutes. Once the timer goes off, remove eggs. Run under cold water until you can handle them. Remove shells.

Note: I love to use local eggs, but their shells can be very difficult to remove. The best approach is, while they are still warm, tap the top and bottom of the egg to break the shell. Roll the egg on a flat surface to crack the rest of the shell. Under cool running water start removing the shell. The water will help to delicately remove the shell and the thin membrane underneath the shell.
GRILLING THE AHI TUNA
Oil the grates of a very clean very hot grill (high heat). Lightly oil the tuna and season with salt & pepper. Sear on the grill for 1-2 minutes per side. Thinly slice and set to the side.
ASSEMBLING THE SALAD
Lay a single layer of Bibb lettuce over a large platter. Drizzle with 2 tablespoons olive oil and coarse sea salt.

Mound the French potato salad in the middle of the platter.

Place the green beans in four separate groupings around the potato salad.

Place thin slices of tuna between each grouping of the green beans.

Neatly place the tomatoes, radishes and eggs on the platter.

Add the olives and drizzle the entire salad with remaining Lemon Dressing.

Serve immediately.