SHRIMP STUFFED PASTA SHELLS WITH WILTED SALAD GREENS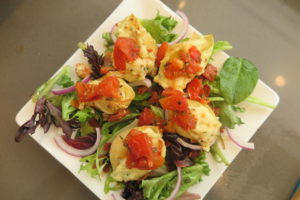 It has been a while! I am back and I am very excited about creating some recipes for you!
These jumbo pasta shells are stuffed with sweet zesty shrimp and a lemon ricotta. They are placed on spring greens wilted with a warm bacon balsamic vinaigrette. The final touch are herb roasted tomatoes.
The sweetest shrimp makes this dish escalate. I used Oishi Shrimp. It is a small batched farmed shrimp. Free of antibiotics, phosphates, preservatives, chemicals and hormones. A gulf wild caught shrimp would bring that sweet flavor to the dish as well (offering all the same freebies). This dish was designed to give you that "winter comfort food" feeling with a lighter fresh take on it.
All the best plans always seem to come with a hitch. I got this great idea for this recipe, got all my thoughts written down, excited to start. Went to do my shopping and low and behold, for reasons unknown, there is a shortage of ricotta. This is not the first item that seems to have been victim to these mysterious disappearances. Ricotta is important in this recipe and there really is no substitution. Luckily, I am surrounded by some incredibly talented people. It was suggested to me "Make your own, it's easy." Really?…Really!!! So, I have to say, one of the unexpected highlights to this dish was the amazing ricotta. The dish will be wonderful with store bought ricotta, but it was AMAZING with homemade ricotta. I added the recipe to end of the article just in case you wanted to try it.
Shrimp Stuffed Pasta Shells with Wilted Salad Greens
Ingredients
THE SHRIMP
1

pound

Shrimp

16-20 count, peeled, deveined, each shrimp chopped into 5 pieces

1/2

teaspoon

Salt

1/4

cup

Shallots,

minced (approximately 2 medium shallots)

1/2

teaspoon

Red Pepper Flakes

1

tablespoon

Garlic

chopped (approximately 3 medium cloves)

2

teaspoons

Olive Oil
THE RICOTTA MIXTURE
2

cups

Ricotta

2

tablespoons

Heavy Cream

1

cup

Italian Shredded Cheese

combination of Provolone, Mozzarella and Parmesan,

1

Egg

whisked

1 1/2

tablespoon

Parsley

fresh, minced

3

tablespoon

Lemon Juice

fresh

1

teaspoon

Salt Salt

1/2

teaspoon

Fresh Ground Pepper
MAKING THE STUFFED SHELLS
1/2

cup

Grana Pradana or Parmesan

shredded
ROASTED TOMATOES
1

pound

Vine Ripe Tomatoes

chopped

1

teaspoon

Thyme

dried (or 1 tablespoon fresh)

1

teaspoon

Oregano

dried (or 1 tablespoon fresh)

1

teaspoon

Basil

dried (or 1 tablespoon fresh)

1

teaspoon

Sea Salt

1/2

teaspoon

Fresh Ground Pepper

1

tablespoon

Olive Oil
WILTED GREEN SALAD
6

oz

Bacon

cut into ¼ inch strips

2

tablespoons

White Balsamic Vinegar

2

tablespoons

Lemon Juice

fresh

1

teaspoon

Dijon Mustard

1

teaspoon

Light Agave or Honey

Salt & Pepper

to taste

1/2

pound

Spring Mix or Baby Spinach

1/2

Red Onion

sliced into thin rings
HOMEMADE RICOTTA
1/2

gallon

Whole Milk

1

cup

Heavy Cream

1

teaspoon

Salt

3

tablespoon

Lemon Juice

fresh
Instructions
THE SHELLS
A package comes with 42 shells. I cooked a couple extra just in case a few did not come out in perfect form.

Cook the shells according to the package direction.

Rinse in cold water to stop the cooking. You want them to be al dente, slightly firm because we'll be cooking them again.

Set to the side. Drizzle with a little olive oil if they start to stick together.
THE SHRIMP
Heat a 10–12-inch nonstick sauté pan over medium low heat.

Add the oil.

Season the shrimp with salt.

Sautee the shallots and shrimp for 2 minutes. Stir shrimp and add garlic and red pepper flakes, sautéing an additional 3 minutes.

Set to the side to cool. *If you are using a regular sauté pan, you will need a little more oil.
THE RICOTTA MIXTURE
Mix all the above ingredients.

Add the cooked shrimp to the ricotta mixture, along with the shallots, garlic, and juices from the sauté pan. Set to the side.
MAKING THE STUFFED SHELLS
Preheat oven to 350 degrees.

Fill each shell with the shrimp stuffing, a heaping tablespoon in each shell.

Sprinkle top of shells with fresh grated Grana Pradana. *Can be done up to this point a day before.
ROASTED TOMATOES
In a medium size bowl, toss tomatoes with olive oil, herbs, salt and pepper.
COOKING THE SHELLS AND TOMATOES
Spray a large roasting or lasagna pan with Pam.

Pour tomatoes and all the juices on the bottom of the pan.

Top with the stuffed shells.

Cover in foil and bake for 30 minutes.
WILTED GREEN SALAD
Sauté the bacon strips over medium heat until crispy, about 15 minutes. Remove the bacon with a slotted spoon.

Run the bacon fat through a fine sieve to remove bacon remnants. You will need ½ cup of bacon fat. Add olive oil to bacon fat if needed to reach the ½ cup.

In a small sauce pan, heat bacon fat over medium low heat.

Add the balsamic vinegar, lemon juice, Dijon mustard and agave. Season with salt and pepper. Whisk to emulsify the dressing.

Place the spring mix in a bowl and toss dressing.
THE PLATING
Place spinach on each dinner plate and top with bacon and red onion. Place 5 stuffed shells on top of salad. Spread roasted tomatoes over shells and salad. Serve.
HOMEMADE RICOTTA
You'll need cheese cloth, a large colander and a bowl.

Line a large colander with the cheese cloth and place over a bowl.

In a large soup pot (6 quart), slowly bring milk and heavy cream with the salt to a rolling boil. Stir often to ensure the milk does not scorch the bottom of the pan.

Add the lemon juice and reduce the heat to low. Stir for 2 minutes. The curds will separate from the milk.

Pour through the cheese clothed lined colander and let drain for 1 hour. Discard the drained liquid *That's it! It will stay fresh in your refrigerator for 5 days. You can also freeze it. Previous frozen is good for recipes where the ricotta is going to be heated.