Winter Refresher

Starting to crave the bright flavors of summer produce? Me, too!
Here is my solution to bring that brightness to a Northern Michigan Snow Globe Day.
The Roasted Tomatoes were my inspiration for this menu. Tomatoes are tired and flavorless this time of year. To coax the hidden deliciousness out of the tomatoes, I marinated and roasted them. The tomatoes loved it! Out came these flavor packed juicy nibbles. The roasted tomatoes are also delicious served cold in a salad or with avocado toast and a fried egg.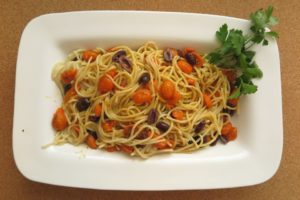 Celery is still decent during the winter months. When combining the crisp bright flavor with fresh lemon juice and parmesan cheese, it made this rather under used vegetable a shining star. I added Heart of Palm to the salad as well. The mild flavor and slightly crunchy texture is similar to artichoke hearts. The marinated pan seared mushrooms are served cold in the salad and contribute some amazing flavors that bounce off the crisp flavor of the celery and hearts of palm.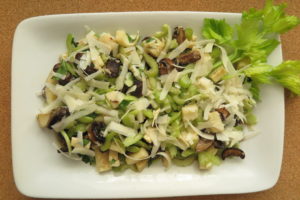 Not willing to shovel out the grill, pan seared Scottish Steelhead Trout is simple and easy to prepare along with the pasta. Steelhead Trout looks like salmon, but it's Rainbow Trout that has migrated up the river to spend its adult life in the ocean. Though they look alike, Steelhead Trout's flavor is milder than salmon. It makes the perfect accompaniment to all the bright flavors of the Roasted Tomatoes and the Celery Salad.