ANYTIME STEAK – Marinated Hanger Steak
With Zucchini Chips and Caramelized Onion & Horseradish Dip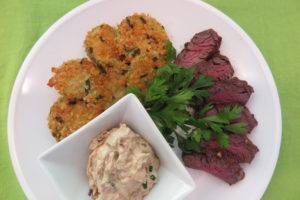 Be it a celebration or just a hankering for a juicy steak, the hanger steak will surely please the palate with its amazing beefy flavor. It is part of the flat steak family which includes flank and skirt steak. Located just below the diaphragm, it basically "hangs out" between the loin and the ribs. Because of its sedentary nature, it is extremely tender with lots of beef flavor.
The hanger, flank and skirt steak can be substituted for each other in recipes. The other two steaks have more responsibility and don't have the ability to just "hang out" so they have a tendency to be a little tougher. Both of them require a marinade to help break down and tenderize the meat. The "lazy" hanger steak doesn't need a marinade but a marinade does add some great additional flavors. All three steaks have a small threshold between being tender and tough. Cooking past medium rare will be disappointing and definitely a chewy experience.
On the financial end, hanger steak gives you big steak flavor at a cost below the popular New York Strips and Delmonico. No need to wait for the next big occasion, these robust steaks can be enjoyed anytime.
The marinade is packed with flavor; soy sauce, ginger, lemon, garlic & brown sugar. The consistency is thicker than most marinades. Instead of lounging in a bath of marinade, the thicker flavor packed marinade encompasses the steak in a blanket of delectability.
I wanted to serve something with them that had that "anytime" feeling. Steak and fries are the epitome of "anytime" if you're eating out at your favorite local hangout. I'll leave the fries to the local hangout. At home, I want to do something different. A crunchy baked zucchini chip was my solution for a substitute to the crispy French fries.
The zucchini chips are coated in potato chips (still going after the French fry thing) seasoned with garlic and fresh chives. Serve with the refreshing Caramelized Onion & Horseradish Dip (no ketchup here!).  Click here to get the recipes.
Enjoy, Anytime!
Anytime Steak - Marinated Hanger Steak
Ingredients
1 1/2

lbs

Hanger Steak

2

tablespoons

Soy Sauce

2

teaspoons

Olive Oil

1

tablespoon

lemon zest

chopped (approx. zest of one lemon)

1

teaspoon

Lemon Juice

One

garlic clove

minced

1/2

tablespoon

Fresh Ginger

grated

1/2

teaspoon

Fresh Ground Pepper

1

teaspoon

Light Brown Sugar

1/4

teaspoon

Salt
Instructions
Whisk together all the marinade ingredients. Pat the steaks dry with paper towel. Place the steaks in a baking dish with sides and pour the marinade over them. Marinade for 45 minutes unrefrigerated or overnight in the refrigerator.

Bring a grill to high heat (500-525 degrees). Scrap and clean the grates. Lightly oil the grates. Cook the steaks for 4 minutes on the first side and 3 minutes on the second side for medium rare. The internal temperature should read between 125-130 degrees. Let rest for 5 minutes before cutting.