BEEF CHEEKS – AN AMAZING CUT OF BEEF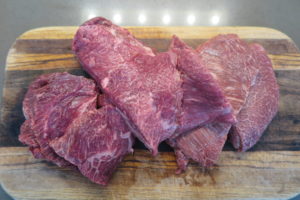 Yes, Beef Cheeks! Rich Flavor. Tender beyond belief. And, of all things, lean! They can be trimmed tight, no need for excess fat left on. What makes them tender is the spider web of connective tissues. Through a slow braising process, these connective tissues melt into the meat and the braising liquid. The flavor is extraordinarily, a deep beefy flavor.
The whole "Nose to Tail" food trend has taken off in the restaurant world. You and I, home cooks, aren't about to buy an entire animal and figure out ways to use every part. But the concept of doing this seems so very right. It was our ancestors that taught us the importance of the animal and its life. Using every part was done for both financial reasons and out of respect to the animal. Today, talented chefs are introducing us to these cuts, creating delicious approachable meals. The beef cheek is a great way to get started at home. It can be used in recipes we are already familiar with – stews and roasts.
Tougher cuts of beef are used for slow cooking stew and roasts. These cuts come from parts of the animal that get exercised the most. Beef cheeks fall into this category, this animal does love to eat! I braised the cheeks in wine, helping to break down those connective tissues, aiding in the tenderizing process. I am used to having to remove a significant amount of fat that forms on top of the liquid. Not with the beef cheeks, it was minimal. No greasy flavor.
I have to say this is now my favorite cool weather meal. So, if you're willing to try something new, I just know you'll be amazed by this cut of beef. Spring is coming around the corner, so in the spirit of eating healthier, I served it with mashed cauliflower. The wine sauce that found its way across the plate to my cauliflower made a perfect partnership. You could opt out of the pasta and just serve it over the mashed cauliflower.
Braised Chianti Beef Cheeks served over Tagliatelle
Ingredients
Browning the cheeks
2 1/2

lbs

Beef Cheeks

trimmed, cut in halves

Vegetable Oil

1

cup

Flour

1

teaspoon

Salt

1

teaspoon

pepper
Adding the vegetables
2

Carrots

cut into large chunks

2

Celery Stalks

cut into large chunks

1

Medium Onion

cut into 8 wedges

5

garlic cloves

mashed but left whole

Vegetable Oil
The braising liquid
2

cups

Chianti Wine

2

cups

Beef Stock

3

tablespoons

Tomato Paste

2

Springs Fresh Thyme

2

Springs Fresh Parsley

1

Bay Leaf

1/2

teaspoon

Black Peppercorns
Thickening the sauce
2

tablespoons

Butter

room temperature

2

tablespoons

Flour
Instructions
Browning the cheeks
Heat a soup pot over medium heat. In a shallow dish, mix the flour with the salt and pepper. Add a thin layer of oil to the soup pot. Dredge the beef cheeks in the seasoned flour. In several batches, brown the cheeks, 3-5 minutes per side. Set to the side. Wipe the pot clean with a paper towel.
Adding the vegetables
Add a thin layer of oil to the pan. Brown the vegetables for 3-5 minutes.
The braising liquid
Very slowly add the wine to the soup pot to deglaze. The pot is hot, be very careful. Using a wooden spoon, scrape bottom of the pot. Add the beef cheeks, beef stock, tomato paste, thyme, parsley, bay leaf and peppercorn. Stir to incorporate. Bring to a simmer and cover for 4 hours.

The beef should be tender and pull apart with a fork. Remove beef and set to the side. Strain out vegetables through a fine sieve, saving the sauce. Return beef and sauce to the pot and chill for several hours or overnight.
Thickening the sauce
Remove thin layer of fat that has formed on the top. Reheat, covered over medium low heat. Mix the flour and butter in a small ramekin. Once the pot is simmering softly, slowly add roux, a small amount at a time. Keep adding till you reach a consistency that will coat a spoon. This will take 10-15 minutes.
Notes
Serve with pasta, mashed potatoes, polenta or mashed cauliflower.