Broiled Haddock with Creamy Avocado Sauce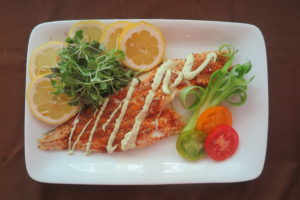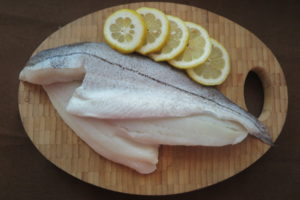 Believe me, there are incredible resources for farm raised fish. There are farmers who are very consciences about raising high quality healthy fish while respecting their environment. This allows us to purchase fish at prices below wild caught fish. But, even in farm raised fish, the price varies reflective of the standards of the farm. You might have to pay a little more for a high-quality farm raised fish, but it will still probably be less than most wild caught.
There are a few exceptions. One in particular is wild caught Haddock, abundant in the Gulf of Maine situated from Massachusetts to Nova Scotia. The gulf is a sea shelf with cold waters protected from the Gulf Stream. The extreme tides and diverse terrain of the shelf make it a home to diverse and abundant varieties of marine life. The sweet delicious sea scallops like the sandy bottom of parts of the gulf. Cod, too, likes to curl up in the sand. The famous Maine Cold Water Lobster flourishes on the rocky bottom sections. And, there is another fish, that just love the gritty rocky portions of this gulf…Haddock. They make the Georges Banks their home, one of the three areas of the Gulf of Maine.
Haddock is similar to Cod, smaller in size with a sweet mild flavor. And…it's affordable and easy to prepare! Bake, grill, sauté, broil, poach, fry – it'll hold up to just about anything you do to it. Then there's that flavor. To smell it raw, it's clean smelling with a sweetness not quite as strong as scallops. When cooked, the flavor is mild ready to take on anything you want to throw on it. It's perfect for fish tacos and fish & chips (I hate to cover the flavor of an expensive wild caught fish with strong seasonings). This delicious fish can also stand on his own with a little olive oil, lemon juice, salt & pepper.
After the fish is caught, the boat arrives at New Bedford, Massachusetts (the largest commercial seaport in America). Once it arrives, it immediately goes to auction. In the wee hours of the morning, fish buyers arrive to start the bidding ritual. As economics go, the freshest and most beautiful fish goes to the highest bidder. Even though Haddock is an economical fish, variations in pricing depends on the quality. Not to say that anything that isn't the highest quality is bad, it just serves other purposes. Some larger fish companies may be using them in frozen applications, some may be smoking or drying. You, as the cook at home, want the freshest and most beautiful fish!
Broiled Haddock with Creamy Avocado Sauce
Ingredients
Creamy Avocado Sauce
1

Avocado

chunked

3

tablespoons

Lime Juice

fresh

1/4

cup

Water

1/3

cup

Scallions

finely chopped

1/2

teaspoon

Ground Cumin

pinch

Cayenne

1/2

cup

Sour Cream

Salt & Pepper

to taste
Broiled Haddock
1 1/2 - 2

pounds

Haddock

cut into 4 equal sizes

Olive Oil

1/2

teaspoon

Salt

1/2

teaspoon

Granulated Garlic

1/2

teaspoon

Chili Powder

1/2

teaspoon

Smoked Paprika

1/4

teaspoon

Pepper

1/2

Lemon

squeezed on to cooked fish

1

tablespoon

Butter

cut into small pieces
Instructions
Creamy Avocado Sauce
Halve the avocado and remove pit. Scoop out pulp and chunk.

In a blender or food processor, puree the avocado with lime juice, water, scallions, cumin, cayenne and sour cream. Puree until smooth and creamy.
Broiled Haddock
Preheat the broiler. Place oven rack 6 inches from broiler. Combine the spice ingredients in a small bowl (salt, garlic, chili powder, smoked paprika and pepper). Place the haddock on a baking sheet lined with foil. Rub the fish fillets with olive oil. Sprinkle seasoning mixture over fish. Dot each fillet with small pieces of butter.

Place the baking sheet on the oven rack below the broiler. Broil for 5-6 minutes or until the fish flakes and is cooked through.

Garnishing Mixed greens with fresh cilantro and parley Lemon Wedges Avocado Slices, drizzled with lemon juice Diced Tomatoes Scallion curls

Makes A Delicious Haddock Taco