RANCHER'S FEAST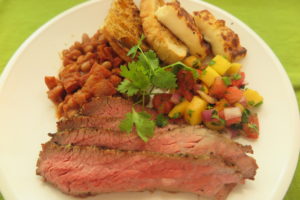 The Rancher's Grill – Santa Maria Tri Tip with Grilled Chipotle Toast & Cheese
Kicking Cowboy Beans – Spicy Baked Beans
Peachy Ranch Hand Salsa – Peach & Tomato Salsa with Cilantro

Let's go back to the mid 1800's when the hills of Santa Maria Valley were occupied by large cattle ranches. In the valley, ranchers would throw abundant Spanish style feasts for their vaqueros (cowboys). The feasts would include beef sirloin (that was grilled over an open fire with the local Red Oak), Baked Beans, Corn Tortillas and Salsa. As time went on, even after many of the ranchers had left the area, the Santa Marie Bar-B-Que became a local tradition, celebrated at festivals, BBQ joints and restaurants.
In the 1950's, a local butcher cut the triangular end off a sirloin. Instead of using it for ground beef or stew meat, which was always done in the past, he put it on the BBQ. Its roast like texture and beefy flavor made it the premier choice for all BBQ's in the Santa Maria Valley. It spread in popularity throughout California.
I'm not even going to try to be a Santa Maria BBQ Maestro but grilling up this cut of meat within the constraints of my humble ranch style house sounded like fun!