THE RANCHER'S TRI TIP GRILL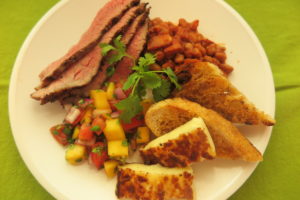 Santa Maria Valley in California is the heart of BBQ Tri Tip.  Following the traditions of these great ranchers, the tri tip has a dry seasoning then is seared over high heat. The temperature is then lowered to finish the cooking process.  The flavor is beefy and the texture melts in your mouth.
The recipe is part of the article "Rancher's Feast".
Try some of the other recipes from this article:
Kicking Cowboy Beans
Peachy Ranch Hand Salsa
Chipolte Toast with Grilled Cheese
THE RANCHER'S TRI TIP GRILL
Ingredients
2-3

pound

Tri Tip

1

tablespoon

granulated garlic

1

tablespoon

Smoked Sea Salt

1

tablespoon

Fresh Ground Pepper
Instructions
Mix the garlic, salt & pepper in a small bowl. Rub the spice mixture over the tri tip. Let tri tip sit for 1 hour unrefrigerated.

Heat a grill with direct heat on one end and indirect heat on the other end. Clean the grill and lightly oil. At 450 degrees, sear the tri tip on each side for 5 minutes.

Place the meat over the indirect heat area of the grill. Reduce the heat of the grill (250 degrees). Continue cooking the tri tip until it reaches a temperature of 130 degrees (approximately 10 minutes). Let rest for 10 to 15 minutes.

CUTTING THE TRI TIP – VERY IMPORTANT Even before you cook the tri tip, take a close look at the meat and you will see that the grain runs from the tip. It is very important that once the meat is cooked you want to cut across the grain starting at the tip or the meat will be extremely chewy.

While the meat is resting, turn the grill back up to 450 degrees and grill the chipotle bread and cheese.