Thanks Giving Dinner

It's such a wonderful holiday, making your heart swell with love for all you've been given. Thankful for the loved ones you share your warm heart and warm food with. The tradition of Thanksgiving sets it apart from any other holiday. It has to be turkey, step aside standing rib roasts and whole tenderloins. There is no place for you at the Thanksgiving table. The side dishes are ingrained into our menu as well; fluffy mashed potatoes and stuffing drizzled with rich turkey gravy, sweet potatoes, squash, cranberry relish. Many families bring to the menu dishes passed down from generation to generation.
So who am I to even think about suggesting any changes to this meal full of love and family heritage? I wouldn't dream of doing that! But there is one thing to Thanksgiving for some us…it can be daunting. The timing of getting everything on the table (luscious and hot) while you're surrounded by a crowd that includes a scrutinizing relative, can be nerve racking even for the most experienced cooks.
So what I would like to Give to you is some suggestions on how to make this holiday as relaxing for you, the chef, as it is for all their guests.
Two Days Ahead:
• Make a turke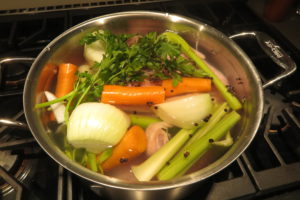 y stock for gravy and the dressing. This step can be easily replaced by a store bought stock. But, if you have the time, a homemade stock takes very little time to prep but does require hours of brewing on the stove top.
• Cut and dry your bread cubes for the stuffing. Once they're fully dried they can be stored in a large zip lock baggie or air tight container. They must be very dry or they will mold. After I bake them, I just leave them out on the counter to dry out further and package them up the next day. Do not refrigerate.
One Day Ahead: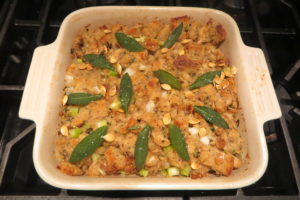 • Make the stuffing.
• Bake the stuffing in a casserole dish. Reheat the next day.
• Make the gravy. I did a butterflied turkey which did not give me the ability to make gravy from the drippings. Even if you're cooking a fully intact turkey that is probably one of the most daunting steps: creating gravy when the turkey is out of the oven and all those hungry eyes are staring at you. I do scrape up some of the flavor impacted brown drippings and add it to my gravy while it's heating up.
• If your menu includes any squash or pumpkin, you can roast the seeds a day or two ahead. Keep them in a zip lock baggie or air tight container till Thanksgiving Day.
• Fry your sage leaves. Let cool and store in an air tight container at room temperature. They're very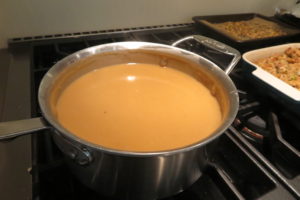 fragile so don't use a zip lock baggie.
Thanksgiving Day: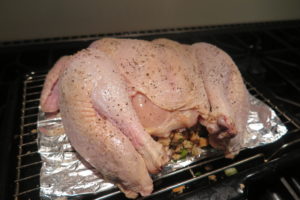 • Time to cook the turkey! In this article I butterflied the turkey. The stuffing went underneath the turkey allowing me to have more stuffing exposed to the lovely juices of the turkey. It also cooks faster. I AM NOT a morning person. Not only being in charge of the meal, waking up at 5 am to get my turkey out so IT could REST before going in the oven, was not my way of starting a fun relaxing day. To all you morning people, who I greatly admire, enjoy the peace and quiet of 5 a.m.
• The turkey can rest for 20-30 minutes, covered with foil. This is the time to stick your other sides into the oven to reheat. Lucky you, you have the gravy all made simmering quietly on low on the stove top. If the turkey rests a little longer, no worries! Once you drizzle that luscious hot gravy over the turkey, no one will ever know it's not hot!
I am so thankful to be a part of this community, surrounded by the most wonderful people in the world. What I want to give to you is some thoughts and inspirations to make cooking a joy for you. I truly believe when you put your heart into cooking, the love comes out in your food. Happy Thanks Giving!